Posted by Royce Young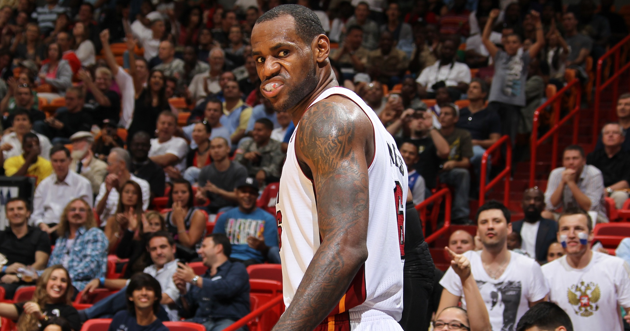 If you could pick only seven TV shows to
watch
, what would they be? Like seven shows, period. Once you picked them, that's what you're watching for the next season of programming. Wouldn't be easy, huh?
Would you go with your favorites? Would go with what's fun to
watch
? Or would you go with something informational or important? Questions all that help determine the criteria on your selection.
It's a question die-hard NBA fans have to ask themselves every year when it
comes to getting NBA League Pass Broadband.
For a little less, you don't get the whole league. Just unfiltered access to seven teams. But the hard part - and kind of the fun part - is figuring out what seven squads you want to have any time you want them.
Who would I pick? Well I'm glad you asked. Here's my seven choices:
1. Miami Heat
- In my crude rating system that I just made up as I was typing this sentence, the Heat pretty much score high in everything.
Watchibility
. Interesting-
ness
. Talent on the floor. Importance to the league. And of course the fact they're one of the league's three or four absolutely legit contenders.
I mean, how could you
not
include the Heat? Even if you hate everything about them
down to their weird looking mascot,
this is the most intriguing NBA roster well, since I can remember. Because of what's going on in South Beach, the NBA
offseason
took precedent of Major League Baseball and NFL training camps. Yeah, so it's kind of a big deal.
And how could even think about missing any of it this year? Yes, they will be on national TV a lot. But you're not guaranteed to get every big performance there. What if the biggest Heat story of the year happens some random February night against the
Raptors
where
Dwyane
Wade and
LeBron
both explode for 40? Or in late March, there's a little argument on the bench between
LeBron
and Bosh? How could you be willing to miss that?


2. Los Angeles Lakers
- Every game the
Lakers
play, it's an event.
Kobe Bryant
doesn't have that many games left and how could you give up the chance to
watch
one of the greatest ever try and win a sixth ring?
What makes the
Lakers
interesting? It's all in what they are. First, they're the
Lakers
. They're Hollywood basketball. They're Jack Nicholson sitting
courtside
, Phil Jackson running the show, Kobe hitting big shots. And Ron
Artest
doing potentially who knows what night-to-night. It's can't-miss stuff.
Plus, for a lot of teams, playing the
Lakers
is the biggest game of the month. It's just a little more important and a little bit more meaningful to both the team and its fans if the game's not in L.A. So you can expect packed houses, fired up crowds, pumped up teams and good basketball.


3. Milwaukee Bucks
- You know who I had here originally? The
Celtics
. And why did I take them off? I don't really know, honestly. Because the Celtics are definitely a good team to have. But I guess I just don't find them all that interesting. They're old, potentially washing up and they're going to have 50 percent of their games on TV anyway.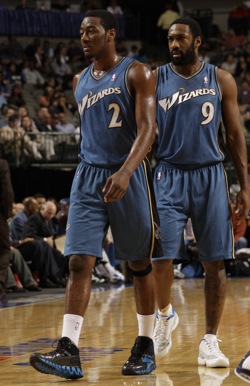 So instead, I'm going with an upstart team featuring a fun scorer in
Brandon Jennings
, an emerging center in Andrew
Bogut
, an underrated forward in
Ersan
Ilyasova
and a dark horse contender in the East.


4. Washington Wizards
- I for one, am
fascinated
by this team. First,
Gilbert Arenas
. He's the league's most interesting personality. He makes up stories about being hurt. Like Jerry in the
Seinfeld
episode George asked him to not be funny, Arenas is touching his dark side and trying to be serious. And like Jerry, he can't not be funny. With that beard, it's impossible to take Arenas completely serious (though he's shaving it off soon).
More than that though, this team is coming off a season full of incredible turmoil, plus it has some of the most erratic personalities in the league.
Andray
Blatche
and
JaVale
McGee and extremely talented but borderline on the headcase chart. Josh Howard never minces words.
Al Thornton
is already a little perturbed about his role. And then of course there's
John Wall
who is supposed to now be the face of the team. Put it all on the court together and you've got an intriguing team to
watch
.
Plus, any time you can get a good look at one of the future talents in the league as a rookie, it's a must. Don't you wish you could go back and
watch
LeBron
James for 82 games as a rookie? Or
Dwyane
Wade? Or
Kevin Durant
? John Wall is almost a guarantee to be great and here's your chance to
watch
him get started. Here's your chance to
watch
him evolve and grow. I wouldn't want to miss it.
5. Oklahoma City Thunder
- In terms of pure excitement, there probably isn't a more fun team to
watch
in the league. They're got exceptional athletes. They've got exciting young players. They've got talent. And best of all, they're actually good.
Watching Kevin Durant score is like a Sunday afternoon nap. You're never unsatisfied with what you get. Durant scores in the most boring exciting way possible. It'll be the third quarter and a graphic will flash at the bottom and you'll see a line of 27 points on 10-16 shooting and you'll only remember three of his baskets.
And while Durant scores in the quiet, efficient way, Westbrook scores in the loud, look-over-here way. This team is something you can't miss. Nobody knows how good they can really be and what makes them so fun to
watch
is that they never take a play off and truly love each other. They play hard and they play together. Nobody is more refreshing.
6. Los Angeles Clippers
- Just look at that starting five. It looks pretty good, right?
Baron Davis
,
Eric Gordon
, Ryan
Gomes
,
Blake Griffin
, Chris
Kaman
- looks nice.
But what makes the Clippers a team I wouldn't want to miss is Griffin. From the small pieces we've gotten in preseason, he's going to provide at least one "WHOA!" moment a night. Whether it's a block, an
oop
or just a stuff over three defenders, Griffin is always going all out.
Add in the fact that when Davis is locked in, he's as good as any guard out there and the evident emergence of Eric Gordon as a scoring guard and you've got a team that could maybe make some noise. Griffin and
Kaman
on the inside is as good a looking interior one-two you'll find and the fact they don't get much spotlight in a city that has lights to spare makes them just a little more cool to
watch
.
The problem with picking the Clippers though is that a month in when two key players are hurt, Baron Davis is already putting on weight and taking quarters off and you realize Vinny Del Negro is the coach, you'll really regret picking them. But it's almost becoming an NBA tradition to be interested in the Clippers in October. The talent is there and they
should
be fun.
7. Chicago Bulls
- The new Bulls era is off to a bit of a rough start with
Carlos Boozer
breaking his hand because of a gym bag. But this is a team transitioning in a weird way. They're combining their exciting young talent with quality veterans. The Baby Bulls of a few years ago fell apart, but this group is set up to actually compete.
But forget that.
Derrick Rose
is the only reason you actually need. End to end, he's just about as exciting a player as you're going to get. He just moves differently than other guys. Even a simple thing like a driving layup has another kind of flash, another kind style with Rose.
He may not be there in terms of stepping into the truly elite, but he's a can't-miss player. And with him on a team that's going to be good with players that are also talented, exciting and interesting, the Bulls are definitely a must-
watch
.
Obviously the two toss-ups on my list are the Clippers and Wizards. Those could be HUGE mistakes come January. Substitute in the Celtics and
Magic
and you've got a guaranteed solid seven. Or the
Spurs
and
Mavericks
. Or the Blazers and
Hawks
. Or the
Jazz
and
Nuggets
.
Or just say screw it and buy the whole League Pass and watch on TV. That's probably a better call. This season is going to just be
that
good.