Portland Trail Blazers guard Brandon Roy has called for the ball, but is that a winning strategy?
Posted by Ben Golliver.
Four games into the preseason, after a summer that didn't see much roster turnover, the Portland Trail Blazers look and sound like a team still trying to find an identity, a team struggling to get on the same page.
Coach Nate McMillan has preached defense throughout training camp, and the troops, minus new addition
Wesley Matthews
, by and large haven't responded. After holding a short-handed Los Angeles
Clippers
team (no
Eric Gordon
, no
Baron Davis
) to 86 points in their preseason opener, the Blazers have gotten clocked by division rivals Utah and Denver in three consecutive games. Add it up, and the slow-down, injury-depleted Blazers, are giving up 101 points per game during the preseason.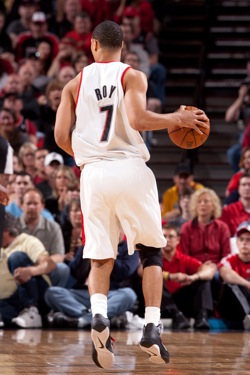 Throughout his young career, whenever Portland has hit a tough patch, all star guard Brandon Roy has responded by placing more responsibility on his own shoulders and, by extension, calling for more touches. After a flat performance on Monday night and a day off to think about things, Roy told reporters Wednesday that the motion offense the Blazers have been running during the preseason was going to give way to Portland's usual isolation-heavy sets in the near future. Along with that change was Roy's desire to initiate more offense himself and he made that fact clear, declaring,
"I want the basketball a lot more."
Roy already sees a lot of touches, and Portland gives him the keys to the car down the stretch, so this comment earned Roy a fair bit of criticism in Portland over the last 24 hours.
Last year, Roy was
16th in the NBA
in usage rate, trailing fellow guards
Dwyane Wade
,
Gilbert Arenas
,
Kobe Bryant
,
Richard Hamilton
,
Monta Ellis
,
Russell Westbrook
,
Rodney Stuckey
and
Brandon Jennings
. Surveying the names on that list, you get a better idea of where Roy is coming from. If you go back two seasons, Roy was 11th in the NBA in usage rate, and the only guards ahead of him were Wade, Bryant,
Tony Parker
,
Chris Paul
,
Will Bynum
and
Devin Harris
.
So while going from 11th to 16th in the league seems like a modest drop, it's one that Roy himself has felt mostly because of the quality of those touches. Indeed, he made specific reference yesterday to returning to the team's offensive style from 2008-2009, when the Blazers were near the top of the
league's offensive efficiency charts
. So what needs to happen for that return to take place?
The most obvious variable here is point guard
Andre Miller
, who was signed as a free agent during the summer of 2009. While a lot has been made about Miller's own need for the ball in his hands to be effective, a more critical factor is his inability to space the floor effectively when he plays alongside Roy. Miller has never been a three-point threat, and last year he attempted just 80 threes,
hitting at a paltry 20% clip
. This allowed opposing defenses to cheat off of him with Tiger Woods regularity, clogging the top of the key, Roy's favorite spot on the floor, and closing down driving lanes. This, coupled with hamstring and knee issues, led to declines in clean looks, shooting percentage and overall offensive efficiency. It should come as no surprise that Roy might desire a return to the pre-Miller days, when a standstill shooter in
Steve Blake
made defenses pay.
How will this situation resolve? Last season, McMillan showed a willingness to experiment with fourth-quarter lineups that didn't include Miller. Matthews' defensive versatility – he can legitimately guard three positions – and his spot-up shooting make him an ideal late-game backcourt partner for Roy. Throw in
Nicolas Batum
, who is also a versatile perimeter defender and solid outside shooter, and the Blazers would have a big, long, athletic perimeter trio to help compensate for having an emergency room full of centers on their inactive list.
The spotlight is now shining on Miller to prove his worth to the Blazers once again. Trade rumors continue to surround him, as they seemingly have since he signed in Portland. Now in the final guaranteed year of his contract, Miller is one of the few Blazers that would seem to have a greater external value than internal value. How much more would he mean to a young team needing leadership from a steady, reliable veteran point guard than to the Blazers, where he is, at best, a square peg fighting for room in a round hole that's nearly entirely filled by Brandon Roy?
As for Roy's call for the ball, it is both admirable and short-sighted. In times of distress, and these Blazers know distress intimately, responsibility and accountability are gold qualities. But leaning heavily on Roy and isolating him on a regular basis hasn't proven to be a winning strategy, in the playoffs or with regard to Roy's health. The first-round exits and injuries have mounted up.
If we've learned anything in the NBA over the past six months, it's the power of economies of roster scale. The more good players that play together well, the more likely it is that great play will result and the easier it is to succeed despite injuries. Ultimately, Roy is correct to look to himself for improvement first, but he must remember that he cannot dethrone the
Lakers
or
Heat
singlehandedly. No one can. To accomplish his goals for the team, which include playoff success and potentially more, Roy still needs to learn to trust someone. That someone doesn't have to be Miller. But it needs to be someone.