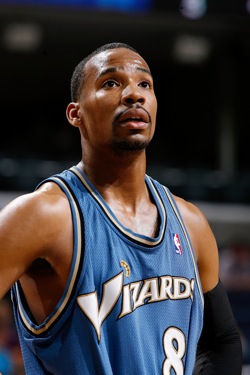 Posted by Royce Young
It was almost inevitable. With the Charlotte
Bobcats
already carrying three point guards on the roster,
Javaris Crittenton
didn't really have much of a chance.
And today, Charlotte cut him,
sending him off to who knows where.
As the oft-forgotten secondary piece in the
Gilbert Arenas
crazy gun puzzle from last season, Crittenton's NBA future has been in limbo since the incident. The
Wizards
cut ties with him shortly after, leaving him to look for someone to offer a make-good type of deal. The Bobcats came calling, but really, it was destined for failure from the start.
Crittenton isn't like his former Bobcats counterpart
Shaun Livingston
. Crittendon never was the kind of NBA prospect where you just knew he'd eventually make it. He was a McDonald's All-American before going to Georgia Tech where he was decent. But riding the coattails of his AAU success and McDonald's All-American hype, he went pro early and was drafted 19th in 2007 by the
Lakers
. He qas quickly moved to the
Grizzlies
in the
Pau Gasol
deal before then being shipped to Washington in 2008.
(A fun Did You Know: Crittenton was high school teammates with
Dwight Howard
in Atlanta. That was a good team, I bet.)
Again unlike Livingston, Crittenton never had the "can't-miss talent" type of tag. He's not the kind of once-in-a-long-while gifted point guard where you keep taking a chance on. He's a good player, one that certainly can show flashes of brilliance, but he never has been the kind of player a franchise is willing to risk anything substantial for. Which is what makes his situation so unfortunate.
Gilbert Arenas is still with the Wizards and set to start for two reasons: 1) He's owed a crap-ton of money and 2) He's a really good player. Both of those things worked against Crittenton. Of course the Wizards couldn't keep both of the guys that drew guns on each other in the locker room, but it's undeniable that Crittenton got the short end of this situation.
Crittenton certainly has NBA talent, but it's a measure of how badly does he want to get back. He's going to have to rehabilitate everything, starting with his perception. He's nothing more than a minimum salary player at this point but his a minimum salary player with substantial baggage. And when you're choosing your third point guard and you can have him or
Sherron Collins
who Charlotte currently has slated there, you go with the cheap rookie that doesn't have a blemish on his record.
It's unfortunate, but it's life in the league. And it's unfortunate too because the Bobcats are a team in desperate need of point guard help. Right now they have
D.J. Augustin
who's unproven, Livingston who's still nearly crippled after a horrific injury and Collins, a mediocre rookie. If he couldn't make it there, it's either the baggage, the talent or a combination of the two.
It's not overy yet for him though. Did you know Crittenton is just 22 years old? It feels like he's been in the league for 10 years now. And I bet he feels the same way. This is a pretty major setback for the forgotten second gunman in the Wizards locker room. Arenas is getting his chance for redemption and it's off to a rocky start as seen with the new dark persona and lying to coaches. Crittenton's just going to have to wait for another shot.