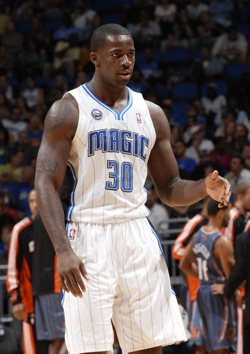 Orlando Magic forward Brandon Bass has played well in the preseason when he's gotten the chance and teams that need frontcourt help are likely taking notice.
Posted by Ben Golliver.
Once again, the Orlando Magic enter the 2010-2011 NBA season with the league's deepest roster. Coach Stan Van Gundy has loads of options when he turns to his bench, with all five positions being covered more than capably. His backup pont guard,
Chris Duhon
, started last season. His backup small forward,
Quentin Richardson
, started last season. His backup shooting guard,
J.J. Redick
, and his backup center,
Marcin Gortat
, could start for a number of teams this season.
The only real question is at the backup power forward spot, where he has two talented but different options in
Ryan Anderson
and Brandon Bass. Neither possesses the top-end talent, currently, to completely settle the
playing time debate
that dates back to last season.
That brings us to
a piece by Brian Schmitz of the Orlando Sentinel
, who notes that Van Gundy opted to start Anderson over Bass when he
benched his usual starting five during a recent preseason game
and that Bass has responded by playing very well.
It's no secret that Magic power forward Brandon Bass wants to find a place to play, whether it' s in Orlando or somewhere else.

And the way he's played lately, he might get his wish — and my guess is the Magic are only waiting for the right deal to come along.

Bass is showcasing his talents for other teams, such as the Indiana Pacers, who need power-forward help.

Bass was coming off a 9-point, 7-rebound, 3-block effort in the last preseason game he played, against the Pacers Oct. 8. Against the Charlotte Bobcats on Thursday night, he led the club with 16 points, nine rebounds and added two blocks in 31 minutes.
Should Anderson continue to see more minutes, I think we can agree that Bass becomes the best third-stringer in the NBA. (It's a shame there's no award voting and trophy for 11th man of the year.)
But it's also fair for Magic general manager Otis Smith to continue to take the patient approach. Talented big man only get more valuable over the course of a season as injuries arise. That goes for both the Magic and any potential trade partners.