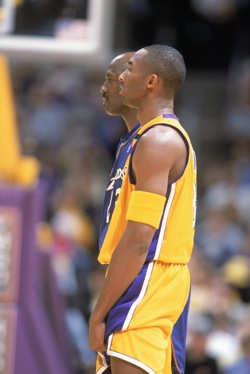 Michael Jordan says Kobe Bryant is a top 10 guard of all time. He should have said top five.
Posted by Ben Golliver.
In
a recent interview with USA Today
, Michael Jordan, the greatest player in the history of basketball, was asked how Los Angeles
Lakers
guard Kobe Bryant stacks up to the greatest who have ever played the game.
It's so hard to say. I think he is always going to be within the conversations of some of the greatest players who've played by the time he is finished. Where does he rank among those, if you are talking about positions? If you are talking about guards, I would say he has got to be in the Top 10.
Marc Spears of Yahoo! Sports caught up
with Bryant for his reaction to Jordan's comment.
"It's an accurate statement," Bryant said. "I'm definitely one of the top 10 guards. It could mean two, it could mean one, it could mean four or five. I'm definitely one of the top thousand. Look, I know how he feels about me. "There have been a lot of great guards to play the game. For me to sit here and say, 'He should have said top five,' that's disrespectful to the other guards that I've watched."
In this case, I'm happy to be "disrespectful" to Jordan on Bryant's behalf: Michael Jordan should have said Kobe Bryant is a top five guard. Period. In his 2009
The Book Of Basketball
, Bill Simmons set out to rank the best players in the game, in part, to help settle questions like this one. Simmons ranked Bryant as the No. 15 player overall, and the only pure guards ranked ahead of Bryant were Jordan (No. 1 overall),
Magic
Johnson (No. 4 overall), Jerry West (No. 8 overall) and Oscar Robertson (No. 9 overall). You can quibble over West/Robertson, but the rest, including Bryant, seem right to me. Since the book's release last fall, Bryant won another title with the Lakers, so his standing has only improved. Bryant refused to rank himself when given the opportunity by Spears, and this was a wise move, because current players will always be at a sentimental disadvantage when compared to retired players. Magic Johnson brings back memories, Oscar Robertson evokes tales, and Kobe Bryant still makes plays. That process of continually adding to his resume works against him whenever we try to assess his standing against stationary targets. Given that he is battling legends, the standard for Bryant to overtake guys like Robertson and West will be exceedingly high and probably not attainable until he retires, and his statistics and ring total go final. Jordan and Johnson may wind up completely unassailable, regardless of how Bryant's career plays out, such is the magnitude of their cultural power. Whether Bryant ever cracks that top two isn't today's discussion. Today, it's more important to realize that it's far more difficult to exclude Bryant from the top five guards of all time than it is to include him. Who would you rather have? Bob Cousy? Isiah Thomas? John Stockton? Rick Barry? Cousy - with his titles, leadership and revolutionary back court play - makes the strongest sentimental case, but he doesn't pass the smell test. You don't think Kobe Bryant in his prime would wipe the parquet with Cousy in his prime if given the chance? On both ends Bryant's athleticism and length would be overpowering. As for the rest, they didn't win as often or in as dominating a fashingon as Bryant has. Jordan's comment shows an appreciation for the game's other great guards and, perhaps, a self-protective impulse. Surely it's easier for Jordan to remain king eternally if his strongest current challenger is given more ground to make up. It was a savvy play by Jordan and Bryant's response showed equal thoughtfulness. Bryant knows historical rankings can't be campaigned for, they are given out collectively once they've been deemed "earned". He also knows he's well on his way.