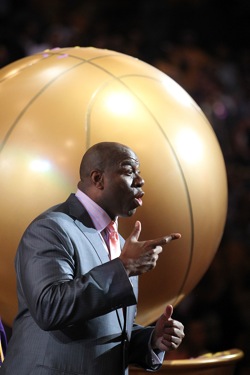 Los Angeles Lakers legend Magic Johnson has sold his ownership stake in the franchise to a billionaire doctor.
Posted by Ben Golliver.
The Los Angeles Lakers
have announced today
that franchise legend Magic Johnson, who helped guide the Showtime dynasty, has sold his ownership stake in the team. Take it away, press release.
Los Angeles Lakers legend and part-owner Earvin "Magic" Johnson has sold his share of the team to Dr. Patrick Soon-Shiong, it was announced today. The transaction price of Johnson's share of the team is undisclosed.
Lakers majority owner Dr. Jerry Buss had this comment on the transaction: "The sale of Earvin's share of the team is a business decision which will not change our relationship. Our friendship goes well beyond business. Patrick is a long-time and passionate Lakers fan and we are delighted to have him as a partner."
The move ends ten years of ownership for Johnson, who has served the Lakers as a player, coach and minority owner during his more than three decades of affiliation with the organization. While Dr. Soon-Shiong, the billionaire founder of the cancer-fighting company
Abraxis BioScience
, isn't a household name like Johnson, he's not without his own degree of fame and notoriety. This
Forbes profile from 2003
paints an interesting picture.
Dr. Patrick Soon-Shiong has been called ruthless and a headline-grabber. As a scientist he has been criticized for hyping his research results; as a drugmaker he has been accused of ripping off investors. Short-sellers have boldly bet against him, risking huge losses. Even his own brother, an early backer, sued him for fraud and fired him--twice--from the company they started. Their skirmishing lasted two years and destroyed their relationship.
Yet Soon-Shiong, chairman and controlling shareholder of publicly held American Pharmaceutical Partners, endured the blows and has been largely exonerated--in the meantime, rising to billionaire status. Credit his immovable faith in the promise of an experimental cancer treatment dubbed Abraxane.
He was
ranked No. 87 of Forbes's 2009 list
of the world's billionaires and
his Wikipedia page
is pretty mind-blowing.