Posted by Royce Young
There are two weeks until Nov. 1. That day doesn't mean much to most, unless it's your birthday or your anniversary (you're welcome for the reminder). But for the draft class of 2007, it's an important day. A
very
important day. And one that looks like it will come and go without much fanfare.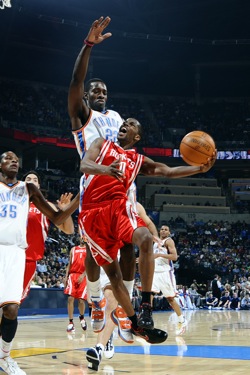 As of today, Oct. 18, only two players from the class of 2007 have received a contract extension.
Kevin Durant
who was given a max deal over the summer and
Joakim Noah
who Chicago inked to a pretty hefty contract. Other than that, no one else. The No. 1 overall pick Greg Oden? Doesn't look like he's getting paid. Other top 10 picks like Mike Conley,
Jeff Green
,
Yi Jianlian
,
Brandan Wright
and
Corey Brewer
? They probably aren't going to have anything done. Only
Al Horford
, who is likely to get extended by Atlanta, has a shot of doing something before Nov. 1, though
David Aldridge of NBA.com says it's "50-50" at this point.
(If nothing is done by Nov. 1, then the remaining un-extended players become restricted free agents for next summer. Just in case that wasn't clear up front.)
Other than Oden who the Blazers aren't extending for obvious reasons, probably the two most interesting cases are Jeff Green of the
Thunder
and
Aaron Brooks
of the
Rockets
.
As for Green, Aldridge thinks that the book might not be closed on an extension for the player Thunder fans call "Uncle Jeff". In his Morning Tip column, Aldridge says, "Green could certainly argue he deserves a new deal after averaging 15.1 points and six rebounds a game last season for the emerging Thunder. And Green's agent, David Falk, has a way of persuading teams to see things his client's way, so Green's status may change by the deadline. Oklahoma City's plan has been to keep its powder dry until its young core group came on line for new deals."
The problem for Green though is his teammate. No not, that Kevin Durant guy. It's his other soon-to-be-a-star teammate,
Russell Westbrook
. Next summer, Westbrook is eligible for his contract extension. And much like the way the Thunder treated Durant by showing up at his door at midnight, Westbrook will likely be inked on the spot. That complicates things for Green.
Nobody really knows his true market value quite yet, just like nobody really knows exactly where he should be playing. Is he a $10 million per year player? More? Less? It's hard to say at this point. And that might be why the Thunder's likely willing to let him walk into restricted free agency. This season is big in determining that value. It's a risk for the Thunder though. There are a lot of dumb general managers out there and one is likely willing to overpay Green because he's a pretty good player playing third or maybe even fourth fiddle on a good team. Someone could very easily put $11 or $12 million a year under Green's nose.
If Green wants a lot of money, then Oklahoma City might not be able to pay him. As of now, both GM Sam Presti and Green are saying the right things. Green says he's not worried about it and that's why he has representation. He said at media day that he'll let it happen when it does. And Presti said he's had "positive discussions" with Green, but won't say anything other than that.
As for Brooks, it's already been
made clear he's not likely getting extended.
As the reigning Most Improved Player and a guy that's potentially a star caliber talent, he's a little miffed over it. But GM Daryl Morey doesn't want to extend Brooks for a lot of the same reasons Presti doesn't want to lock in Green. It's not to say either GM doesn't want to keep their guys, it's just that they don't want to overpay without knowing completely what they have. Plus, the looming CBA negotiations are hanging overhead and it makes it tough to just hang a big multi-year extension in front of anyone and everyone. It's fiscal responsibility, but at the same time, risky behavior because you may have to pay more to keep your man next summer. Interesting dynamic there.
With this class looking at two and probably three extensions, a small trend is developing. The 2006 class had six extensions (
Andrea Bargnani
,
Brandon Roy
,
LaMarcus Aldridge
, Thabo Sefolosha,
Renaldo Balkman
,
Rajon Rondo
). The 2005 group had eight (
Andrew Bogut
,
Chris Paul
,
Deron Williams
,
Andrew Bynum
,
Danny Granger
,
Jason Maxiell
,
Francisco Garcia
and
Martell Webster
). 2004 had six (
Dwight Howard
,
Devin Harris
,
Al Jefferson
,
Kris Humphries
, Jameer Nelson and
Kevin Martin
, but the all-time great class of 2003 had 15 (LeBron,
Carmelo Anthony
, Dwyane Wade,
Chris Bosh
, etc.). Either the talent has dropped a bit or GMs are just a little tighter with those extensions. It's probably a combination of both. And of course, that darn CBA.
(As an example though, out of that 2006 class, some players that got restricted free agent contracts but not extensions:
Rudy Gay
, Luis Scola,
Ronnie Brewer
and
Tyrus Thomas
. So just because someone isn't extended that doesn't mean they won't get paid big and/or stay with their current club.)
But then again, would you extend
Thaddeus Young
, Yi,
Rodney Stuckey
,
Jared Dudley
,
Spencer Hawes
,
Rudy Fernandez
,
Al Thornton
or
Nick Young
? (Interestingly, Ernie Grunfeld has the opportunity to do so on like half the 2007 class.) It's not exactly a group that screams multi-year, multi-million dollar contract.
Though it appears we may be in a new climate for contract extensions and it's something the 2008 class (
Derrick Rose
,
Michael Beasley
, Westbrook,
O.J. Mayo
,
Kevin Love
, etc.) will likely have an eye on. The new CBA will determine a lot of these players' future. So Nov. 1 will probably just have to come and go while they wait to see what happens next summer.