Golden State point guard Stephen Curry is growing up fast, focused on making the Warriors a playoff contender. Posted by Ben Golliver.
"You make me feel old."
That was the reception from a middle-aged woman for Golden State Warriors guard Stephen Curry, as he emerged from the Rose Garden's visiting locker room on Saturday night after nearly going quadruple double -- 17 points, 11 assists, 7 rebounds and 8 turnovers -- on the Portland Trail Blazers in a meaningless preseason game.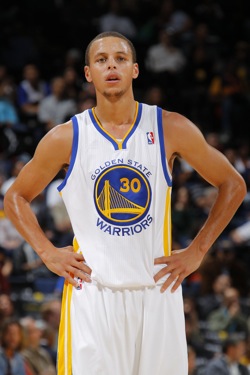 The 22-year old Curry hears that a lot when he travels the league, in part because of his baby face, in part because of his slight frame, in part because so many people remember him tagging along his father Dell, a long-time NBA veteran. But as Curry begins his sophomore trip through the league, after contending for Rookie of the Year honors last season and winning a gold medal at the FIBA World Championship this summer, he's hearing a lot of others thing too. Like, "One of the best shooters in the league." Like, "All star potential."
That's the story for Curry and his new-look Warriors this season: emerging. "He surprised everybody last year because we thought maybe he wasn't ready for the NBA," Blazers forward Nicolas Batum said. "He seems more mature. He has learned the NBA game."
Curry says he's ready to take on the full time playmaking point guard duties that new head coach Keith Smart has laid out for him. "Down the stretch of last season with so many injuries I think my role would be to distribute the ball, and 1A was to score. This year I think it's more managing the game, we have such a powerful lineup this year I'll be able to pick and choose when I want to attack, when I want to get people the ball."
With the offseason additions of power forward
David Lee
, forward
Dorell Wright
and big man
Lou Amundson
, there's a steadiness in the Bay that wasn't there last year. "We had so many guys rotating in and out with injuries," Curry lamented on Saturday. "Coming from the D-League, guys who are going to be here for two weeks until somebody gets healthy. Playing with unorthodox lineups on the floor, it's kind of tough to be consistent throughout the course of a season so hopefully that doesn't have to happen this year. Right now we have more of what I'd call a traditional lineup, our big guys are healthy, we can go out there and know the rotation that coach is going to put in, know what to expect night in and night out, not have to adjust on the fly as much as we did last year."
The bread and butter of Curry's game remains his gorgeous shooting stroke, which he works at harder than just about any one in the league. Two and a half hours before Saturday's preseason game, Curry went through his "plan" with Stephen Silas. The plan consists of getting up "about 200" shots prior to a game, although Curry says he takes even more some nights to get his rhythm. This isn't a standstill three-point contest. Curry works on catching the ball in awkward locations, creating a clean look off the dribble while moving in all four different directions, stopping and popping, floating through the lane, you name it.
All the work has paid off. "He's always been a pretty good shooter with range," says Blazers coach Nate McMillan, who coached Curry during the World Championships as an assistant for Team USA." Now he's proven he can shoot the NBA three. He's definitely one of the top shooters in the league." Batum agrees. "He is a top two or three [shooter] in the NBA for sure. When he has the ball he's very dangerous. You have to remember where he is. If you lose him, bam."
Bam, indeed. While the Blazers threw three different guards at Curry and occasionally extended their ball pressure full-court to make his life even more difficult, Curry found his shots again and again on Saturday night. Pull up three in transition, stopping on a dime. Cross-over dribble for a step back mid-range jumper. Darting off of a high screen, squaring his shoulders and letting fly.
"He has no conscience," former NBA player and three-point ace Hersey Hawkins, who has known Curry since he was a child, laughed last week. "I think every guy that's been labeled a great shooter shoots the ball with confidence, regardless of makes or misses, they're constantly looking for their shots. He moves well without the ball, that's a plus for being a good shooter. He knows how to free himself up to get his shot off. And then he has a variety of shots. He can put it down, shoot the floaters, shoot runners, of course we know he can shoot the three. When guys like that get on a roll, they're just unstoppable."
Curry isn't yet an unstoppable force, but he's getting there. The game plan to defend him involves denying him clean looks and forcing him to make plays under pressure. Curry's 11 assists on Saturday speak to his developing vision, but his 8 turnovers make it clear there's still work to be done. "It's still a little bit of an adjustment," Smart said after the game, pointing to the team's addition of true low post players as a contributing factor. "We won't have as much space on the floor that we've had in the past. There's nothing major that's going on right now. He's going to figure it out."
A number of Curry's zip passes hit unprepared teammates in the hands. "We shared that in our shootaround this morning. You guys need to make sure when you're cutting to the basket, be ready to receive the ball," Smart said. "Don't just run through the lane. He's putting the ball on the money in some places but they're dropping too many of his passes. But those things are correctable. They can correct the pass, they can correct the catch and we can move forward."
Curry smiled when asked about the turnovers. "I won't have that many every night." He says he's still adjusting to his new teammates, and vice versa, and feels like he's being given as much time and space as he needs to develop into the point guard role. "They want me to be aggressive, make plays, but you can't be careless with it," Curry says. "You can't take that freedom and running around the floor. I think they trust me to be smart with the ball, be aggressive, make the right play. Nights like tonight where I'm making a lot of dumb plays, it shows the trust they have in me to make the right ones by keeping me out there and letting me work through it."
That work, on his jumper, on his maturity, on his playmaking, is turning heads. Asked if Curry will make an all star game in the near future, Hawkins didn't hesitate. "Oh, yeah, definitely. I think he's that good." McMillan agreed. "He enjoys the game, he works at it. Just a talented player. If he continues to have that success and his team wins, you certainly have to consider that."
Team success is on Curry's mind too. "We have a lot of pieces we need to make that push, be in the mix with those eight or nine teams in the West competing for those playoff spots." Whether it's this year or next, Golden State is playoff bound in the near future. Young Curry will see to that, as he makes us all feel old in the process.