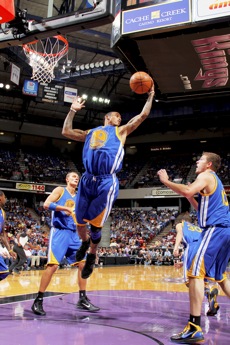 Posted by Royce Young
By the first week of November, Chris Cohan will finally be out in Golden State and a new era with a new owner will begin.
Matt Steinmetz of CSN Bay Area reports
that according to multiple sources, new owner Joe Lacob has financing in place and is expected to seize control of the team no later than a few days into November. Lacob was hoping to get the owner approval vote at the Oct. 20-21 Board of Governor's meeting, but that appears unlikely, according to Steinmetz.
Will Lacob have control over the team by the season opener Oct. 27? That will be tight, it appears, though one source told Steinmetz is would be done by the time the
Warriors
open against the
Rockets
. While Lacob won't likely get the vote Oct. 20, a vote on the sale can be done by e-mail or teleconference at any time. Three-fourths of the owners have to approve of the sale for it to become final.
Lacob purchased the team with business partner Peter Guber back in mid-July for a reported $450 million. And since taking over (sort of), Lacob has moved quickly trying to restructure the future of the team. He's done numerous interviews trying to lay out a new vision and his influence is likely what helped push Don Nelson out the door and bring Keith Smart in. Lacob was also consulted on the
David Lee
move as well as the deal that signed
Jeremy Lin
.
Cohan has owned the team for 16 years and in that time has seen the Warriors appear only once in the postseason (2007). Cohan's purchase price was somewhere in the $120 million range.
The Warriors will have their new era soon. Just another week or two until they can wash their hands of the Chris Cohan era and hopefully move on to something a little brighter.