Posted by Royce Young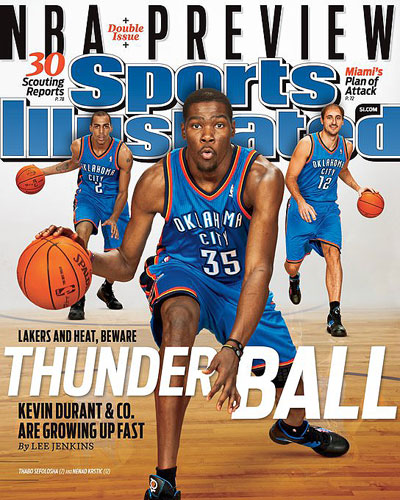 When Sports Illustrated leaked its NBA preview issue cover this morning,
there were two big surprises: 1) There wasn't a glimpse of
Dwyane Wade
,
LeBron James
or
Chris Bosh
anywhere to be seen on it and 2) it featured
Kevin Durant
and...
Nenad Krstic
and
Thabo Sefolosha
?
Kevin Durant, we all get. No qualms or questions there. But Krstic and Sefolosha? Where's
Russell Westbrook
, a player whose star is increasing by the day? Or
Jeff Green
, one of the de facto faces of the franchise? Or even
James Harden
who is a major part of the
Thunder
youth movement? Those guys are the obvious candidates, not a guy that's noted for his tough perimeter defense and another that became famous for throwing a chair in someone's face this summer.
But as someone that resides in Oklahoma City and that has followed the Thunder franchise pretty closely since it moved here, I think I have an explanation. Or at least a theory. The Thunder wanted the cover that way.
Obviously Sports Illustrated takes the picture, but the Thunder probably pushed having Sefolosha and Krstic in the picture with KD. Why? Because it just reinforces the philosophy of the franchise. It's not about one guy or even three guys. It's about every player, even down to the training camp invite that's probably not going to make the team.
Every team preaches that idea. But the Thunder
lives
by it and not just for reasons on the floor. For instance, in my travels in Oklahoma City, I can recall only one, maybe two, major Thunder advertisements featuring Durant. You'd think every single Thunder thing would have his face and his face only all over it. But there are major billboards that have
Serge Ibaka
and
Eric Maynor
together on it. There's even one with bench scrubs
Byron Mullens
and
D.J. White
. In the Thunder's practice facility, there's not any individual pictures or accomplishments to be found. There's one big banner that has a photo of the team in a huddle.
It a culture that's being built by the front office. And while it's good motivation for what happens on the court, it's also a marketing strategy off it.
The Thunder's goal is to not be Oklahoma City's professional sports franchise and something that's entertainment for residents. They aim to be part of the community. I'm not talking about just making school appearances and stuff. I'm talking about like being the local YMCA. These are professional athletes, these are citizens of your city.
One of the reasons they market the team and not individuals is because of long-term planning. Just in the same way Sam Presti has built the Thunder roster through patience and planning, the organization wants to build the fanbase the same way. For an eight-year-old, Kevin Durant won't be here in 15 years when he's thinking about buying season tickets. The Thunder wants to build a brand that appeals to that eight-year-old now and not just market a cool player to look up to. Because players come and go. The organization doesn't. (Well, shouldn't. Don't throw things at me Seattle readers.)
The organization wants to make it cool to be a Thunder fan, not just a Kevin Durant or Russell Westbrook fan. Obviously the players are a major part of it, but little things like putting two role playing non-stars on the cover of a major magazine is just something that's not surprising with this organization. It all starts with the stars, but they're not anymore important than the last player on the bench.
It's about brand management for the long haul. Kind of the opposite of what the
Heat
are doing now. The Heat introduced their new Big 3 together at a huge party, as if they're the only three players on the team. But what happens when their contracts are up and they move on? The Heat are building a brand based off three players, not off the entire Miami Heat team. It's a different approach and one that works for a major market, but for a small community driven market like Oklahoma City, it's always team first, individuals, well, never.
It helps that the Thunder's star is as bought in to the team concept as the organization. Reportedly, Durant was going to be on the cover by himself but demanded he have a couple teammates on there with them. Maybe he specifically asked for Thabo and Nenad. Maybe that's all that was available. Or maybe the team sent them. Who knows. But this team concept thing helps when the guy that would be getting all the attention defers to the same philosophy as the franchise.
There's a line in an episode of
Seinfeld
where Jerry is talking to George and mentions how silly professional sports kind of are, mentioning that really, we're just rooting for laundry. And it's like the Thunder had made that its mantra. They want their fans to root for the laundry, not the guys wearing it.