Posted by Royce Young
Ken Berger of CBSSports.com has pulled in a bunch of new information
about the potential of
Carmelo Anthony
to New York (or to somewhere) and it's not as easy as it might seem. The gist is though, the
Nuggets
appear more ready than ever to move Carmelo, but want to do it on their time, not his.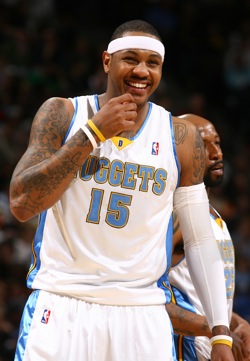 The Nuggets are still hoping that Anthony will have a change of heart and a good start can convince him maybe Denver is the place to be. Of course as Ken points out, that could certainly backfire as the Nuggets are looking at opening the season without
Kenyon Martin
or
Chris Andersen
. A bad start could mean Carmelo actually starts saying he wants out
now.
And according to Berger's report, the
Knicks
don't have a deal nearly as attractive to the Nuggets as what New Jersey would have.
David Aldridge of NBA.com reports
the Knicks story has "no legs" to it. And that's even with the Knicks really sweetening the pot.
So it doesn't look like a deal is as close as it might seem. But let's still ask the question: Should the Knicks be making this kind of effort? In the proposed talks, New York would be losing Anthony Randolph,
Danilo Gallinari
, a first-round pick they acquired from someone and
Eddy Curry
's valuable contract. But they would get Carmelo Anthony. Is that a good deal for the Knicks?
In a lot of ways, yes. Anthony is a huge star, will bring a ton of attention to the Knicks and paired with
Amar'e Stoudemire
, they'll have a nice team. Carmelo is a player capable of winning some on his own but adding in a talented guy like Stoudemire just means that this team could be pretty solid.
But if New York trades away Gallinari and Randolph, plus the assets that could potentially improve the team more down the line, what's left? They'd have Carmelo, Amar'e, Ray Felton and...? I'm drawing a blank. Unless players like
Wilson Chandler
,
Timofey Mozgov
and
Toney Douglas
have abilities hidden within that they're waiting to break out, aren't we just kind of looking at a situation similar to what the Cavs faced all those years with LeBron? Granted, Stoudemire is better than any castmate LeBron had, but Carmelo isn't the same caliber player LeBron is.
The Knicks obviously are dying for Carmelo. And since they know he wants to be there, they're willing to do what it takes. Randolph is a talented player, but unproven. Understandable sending him. The first-round pick, no big deal. Curry's contract is a nice asset, but you've got to give up good stuff to get back good stuff. Gallinari is where it's easy to get a little hung up. He's not a superstar, but he screams Excellent Role Player.
Plus, when you read some accounts of Anthony's game, are we really so sure he's the superstar player we think he is? For instance,
Jeremy Wagner of Roundball Mining Company
had a nice takedown of Anthony's game in which
Zach Lowe of SI's The Point Forward expanded on.
The conclusion appears to be that yes, Carmelo Anthony is a good player. A bedrock superstar though, he is not.
The Knicks aren't necessarily selling the farm to acquire Anthony. But Gallinari is a high price to pay because he's New York's most valuable trade piece. Tough call.
If the Knicks were willing to risk it and wait, maybe the Nuggets would take less at the trade deadline. Or there's potential Anthony doesn't go anywhere and just becomes a free agent next summer and can choose wherever he wants to go. Then nobody would have to give up anything to get him. Denver is practicing patience with Anthony, hoping they can convince him to hang around. Maybe the Knicks should hope he does too.