Michael Jordan's Mercedez Benz SLR 722 is reportedly being sold on eBay. Posted by Ben Golliver.
I won't kid myself and I won't waste your time: it really doesn't matter what I write in this space, because directly below these words will appear multiple pictures of NBA Hall Of Famer Michael Jordan's 2007 Mercedes Benz SLR 722, which is
currently being sold on eBay
.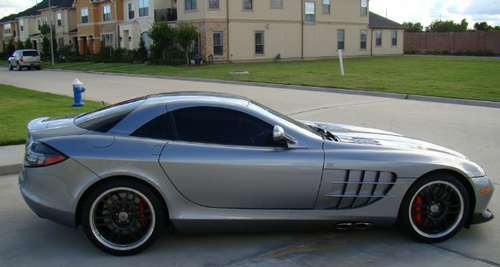 Please re-attach your jaw to your face. This car is absolutely sick and, if given the option, I would trade my entire car for just one of the Lambo doors on this bad boy. Are you kidding me?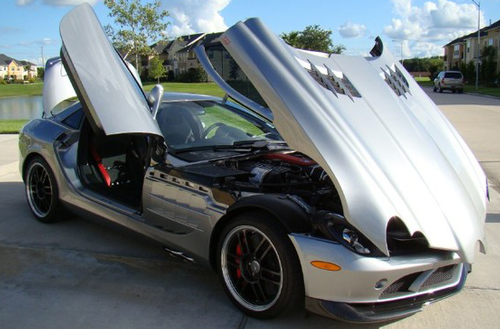 Both pictures via
eCarlist
. Follow the link for many more. OK, it's time for a few specs if you haven't passed out on me yet.
5.5L SEFI AMG supercharged V8 engine.
209 MPH top speed.
19 inch alloy wheels.
0 to 62 mph in 3.6 seconds.
And here's the sales pitch from the seller...
You are looking at a very rare Mercedes Benz SLR 722 in mint condition. Clean 1 owner Carfax. This was the one and only Michael Jordan's 722 with title signed by him! This car is loaded with carbon fiber from the hood to the floor pans and wheel wells. Still has Mercedes Benz factory warranty till aug of 2011 or 50,000. Comes with all papers, books, keys, trickle charger, k40 radar, and SLR car cover. Owned by the one and only, Michael Jordan.
Best of all, the Benz has less than 1,000 miles on it. Worst of all, the price tag is $429,000+, which is more expensive than most houses. But I'd probably prefer to live in this Mercedes compared to most houses, so it seems like a good value all things considered. Is there room for a half-bath?