Posted by Royce Young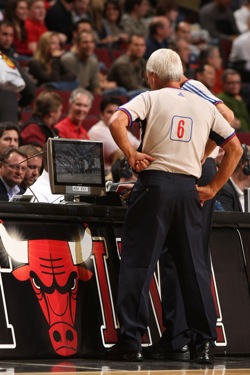 The NBA's moving more and more toward fully utilizing instant replay in close call situations as today, the NBA Board of Governors
unanimously
approved several modifications to the instant replay rules that will go into effect for the upcoming 2010-11 season. Instant replay may now be used:
During the last two minutes of regulation and the entire duration of any overtime period, to determine whether the ball touched the rim and thus whether the shot clock should be adjusted.
During the last two minutes of regulation play and the entire duration of any overtime period, to determine which of two players on opposing teams caused the ball to become out-of-bounds. This modification expanded the previous rule to include the entirety of an overtime period instead of just the last two minutes of an overtime period.
During a replay review of an out-of-bounds call, to determine when the ball is out of bounds for purposes of adjusting the game clock and shot clock.
At any point during the game, to determine which player should attempt free throws after a foul occurred.
At any point during a game, to determine whether a foul that was called a clear-path-to-the-basket foul met all the criteria of a clear-path-to-the basket foul.
So let's recap:
Replay to check if a shot hit rim in the last two minutes for shot clock violations? Check. Sounds good.
Replay to see who knocked a ball out-of-bounds in the last two minutes, but expanded to include ALL of overtime? Check. Sounds very good. I like it. And also to check the game and shot clock in said out-of-bounds situation? Also good.
Replay to check who should be shooting free throws and to determine clear-path fouls? Well, those are fine I guess, but at this point we're really reviewing a lot of stuff here. I don't necessarily
dislike
it, but I just don't love when a game is stopped to replay something. Already, the NBA struggles with a great flow because of TV timeouts and coaches calling them. Not that these replay situations will happen all the time, but reviewing a clear-path call seems like it could realistically happen two or three times in a half. And that would really hamper the rhythm of a game.
Of course, here's where I say you want to get the call right, but sometimes getting it right with eight minutes left in the second quarter isn't as important as not wasting the two minutes it takes to review and get it right. Maybe to you it is. But one complaint the NBA has never had was that games are too long. Now the league is potentially adding more stoppages and more whistles. Add this with the new technical foul rules which add more whistles and down time and could we be looking at an extra 10-15 minutes added on to each game?
In general, the NBA has done an excellent job using replay properly so far and there's no reason to think they won't master these new uses. The officials are typically pretty brisk with the review and since the actual officials review the call on the floor instead of sending it upstairs, things work fairly efficiently.
Overall, the changes are good and in the best interest of getting a fair winner. And I'm always a fan of that. In this situation, the good probably outweighs the bad, hence why the Board of Governors approved it unanimously.