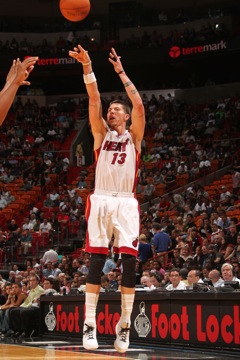 Posted by Royce Young
Things are getting tough for the Heat before they're even getting started. For shame for the NBA's new Mr. Bad Guy.
Mike Miller who outside of the Big 3 is considered maybe team's most important role-playing piece, will be out potentially close to half the season. Miller will be in a cast for at least four weeks and then he'll move to a split after that missing multiple months. Miller had a 45-minute surgery to repair a torn ligament and fracture in his thumb on his shooting hand.
So that's not good for the Heat. Miller was intended to be the Heat's top option off the bench and provide outside shooting and scoring to supplement the trio of stars. Now the Heat will turn to players like Eddie House and James Jones to pick up that slack.
But potentially the Heat are exploring options with another veteran scorer. Jerry Stackhouse didn't make the first cut when veterans flooded to Pat Riley's doorstep for a chance to latch on with the Heat,
but Winderman reports there are legs to Stackhouse heading to South Beach.
Last season Stackhouse played for the Milwaukee Bucks, contributing fairly well to their unexpected playoff run. As of now, he's unemployed. He's 35 years old and a player that isn't anything more than a 15 or 20-minute a game role player.
The Heat have recently trimmed their roster to 16, meaning they still have one more cut to go before being legal for Tuesday's opener against Boston. But if they signed Stackhouse, two players would likely have to go. Here's where Kenny Hasbrouck calls Pat Riley and swears to him he can handle the load. Otherwise, he's probably the one getting the axe, along with one other (Patrick Beverley or Da'Sean Butler?)
It's been an interesting preseason for the league's most talked about team. Before this, there haven't been any major injuries, but things have run far from smoothly for the Heat. Adversity often raises its head in the NBA and the great teams always respond. Miller's not the biggest loss in the world but the Heat are a little less awesome than they were yesterday.