The Portland Trail Blazers will sign Argentinian big man Fabricio Oberto. Posted by Ben Golliver.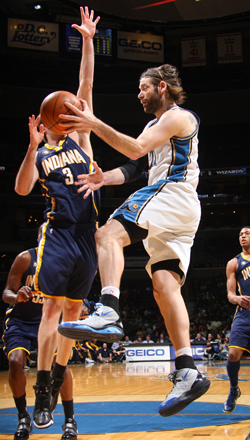 Marc Stein of ESPN.com reports
that the Portland Trail Blazers will sign Argentinian big man Fabricio Oberto.
Sources told ESPN.com that Oberto -- who has turned down several offers from Europe in recent weeks because he was determined to keep playing in the NBA -- is joining the Blazers on a one-year deal to fortify their depth as Greg Oden and Joel Przybilla continue to recover from the serious knee injuries they suffered last season.
A league source with knowledge of the deal has confirmed the report to CBSSports.com Friday evening. The news comes as no surprise because the Blazers have limped through the preseason, often using power forwards
LaMarcus Aldridge
and
Dante Cunningham
in the middle and getting production from veteran (aging?) center
Marcus Camby
only when he's been healthy. A season-ending knee injury to big man Jeff Pendergraph left the Blazers with no frontcourt depth, making life even more difficult in the continued absence of Oden and Przybilla. Oberto will likely serve as Portland's fourth big man, at least until Przybilla's return, which is anticipated in mid-November. Rookie
Luke Babbitt
-- a combo small forward/power forward -- had been logging time at the four spot during the preseason, but he isn't yet ready to play heavy minutes in the NBA. With the signing, Portland's roster currently stands at 17 players, meaning GM Rich Cho will need to trade or waive two players before Monday's deadline. If no trade develops, those two players are expected to be Australian guard Patty Mills and, in a sick twist of fate, Pendergraph. It's been a horrible month for Pendergraph, a second-year fan favorite out of Arizona State, who went from being projected as a major contributor for the Blazers to, likely, a player without an NBA home. On the bright side, his contract this season is fully guaranteed, so he won't walk away empty-handed.