Toronto Raptors wing DeMar DeRozan dislocated his finger during a preseason game, but returned to the game. Posted by Ben Golliver.
Don't you just love the late night freak injury posts that we can't stop putting up?
The other day
it was
Stephen Curry
rolling his ankle. Tonight, we up the gruesomeness substantially. Check out what happened to Toronto Raptors wing DeMar DeRozan, who dislocated his finger during a
108-103 preseason win
over the New York
Knicks
in Montreal, Canada, on Friday night. Here's a fuzzy screen grab, but you can still feel the pain.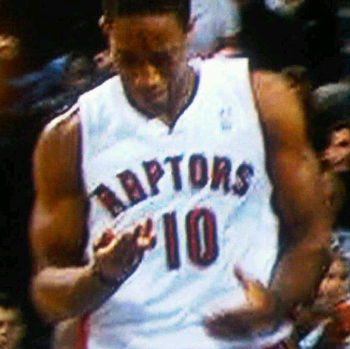 Via @justcallmejuice on Twitter
. The injury occurred during the second quarter and forced DeRozan to leave the game, but he returned to the court during the second half. After the game, DeRozan
posted on his Twitter account
that everything was all good. "My finger is good, trainer pop'd it back in so I'm good." Here's a slow-motion replay
via @Nat77 on Twitter
.
And here's a longer
video of the sequence
posted on Raptors.com. Remember when
Eddie House
recently said "
middle finger to all the haters
"? I think DeMar DeRozan's finger is so crooked it can actually point at every single hater in the entire world at the same time now.