Allen Iverson has reportedly agreed to sign with Turkish club Besiktas. Posted by Ben Golliver.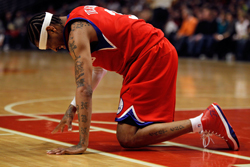 Marc Spears and Adrian Wojnarowski of Yahoo! Sports are reporting
that former Philadelphia
76ers
all star guard Allen Iverson has agreed to sign with the Turkish club Besiktas.
Allen Iverson has agreed in principle to sign an incentive-laden, two-year, $4 million contract with Besiktas of the Turkish professional league, sources told Yahoo! Sports on Sunday night.
Iverson plans to sign the contract this week, the sources said, and is expected to report to Besiktas the week of Oct. 31.
Iverson's contract will give him an opt-out clause after this season.
Given how Iverson crashed and burned out of the NBA twice last season, this move is not without risk for Besiktas. However, there's potential reward too, in the form of the international interest and profile that comes with adding a future NBA Hall of Famer. If there's a question about The Answer these days, it's one of reliability. Istanbul, although a modern, international city, is a long way from home in Newport News, Virginia. And, unfortunately, Iverson hit Barry Bonds territory last year, after refusing to come off the bench with the Memphis
Grizzlies
and attempting a hero's return to Philadelphia but then disappearing quickly amidst all sorts of
accusations of gambling and drinking
. While this signing isn't creating the same stir as
"God Chose Memphis"
, Iverson's once-in-a-generation personality and skills will be a draw no matter where he takes his act. My guess is Besiktas won't be the final stop on A.I.'s journey.