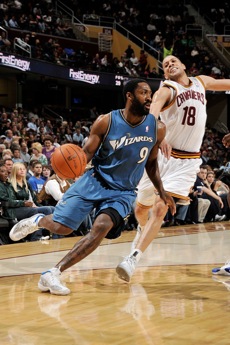 Posted by Royce Young
Nick Young
shouldn't have to thank
Gilbert Arenas
. I think Arenas is
actually
hurt this time around.
Michael Lee of The Washington Post tweeted
that Arenas will likely miss the
Wizards
first two regular season games because of a sore ankle. Arenas strained a tendon in the ankle and has been wearing a walking boot.
So far it's just a projected two games for Arenas, but it could be more. He'll see a doctor about the slow-recovering ankle this week.
There has been a lot of curiousity as to how Arenas and rookie
John Wall
would work together in the backcourt, but those questions will have to wait to be answered for a bit. And because of Arenas' injury, he hasn't practiced a ton with Wall and obviously has seen very little game action together with the rookie. So here we get a chance to see Wall with the team all to himself as well as we'll have something to compare it to when Arenas returns.
How does Flip Saunders balance the lineup with Arenas out? It's looking like
Al Thornton
will start, meaning he'll be in at small forward. I guess that means either
Kirk Hinrich
or Young will get the nod as shooting guard. The Wizards are looking at a fairly non-traditional lineup with or without Arenas it looks like.
Most feel that eventually, Washington will have to move Arenas to really complete the transition of handing the team to Wall. It's just going to be two games, but it'll at least be a taste and like I said, no we have a barometer to compare Wall against how played with and without Arenas.