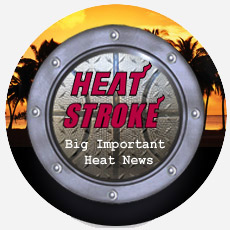 Posted by Royce Young
For those of you that gripe about too much Miami
Heat
coverage, I'm with you. It can become a little nauseating. But people care. People watch. People are paying very close attention.
For example, last night's opening game against the Boston
Celtics
? Oh, it only drew 7.4 million viewers making it the highest-rated basketball game in cable TV history. The game it topped?
Lakers
-Bulls from 1996. Yeah, people care about this Heat team.
For a regular-season basketball game, that number is fairly huge. The NBA grabbed every casual sports fan and had them watching last night. I suspect we're going to have a season pretty much full of numbers like that. And to dethrone a game that featured M.J.'s greatest
Bulls
team vs.
Magic
Johnson in his final season is just wild.
For shame the Heat didn't perform that well though. The game ended up being a pretty good one, but I'm sure after the first quarter, casual hoops fans were thinking, "This is it? This is what everyone made such a big deal about?" If the NBA had its way, the game would've been back and forth for a full 48 with LeBron, Wade and Bosh all playing a major role in the game. Instead, viewers saw a 4-16 performance from
Dwyane Wade
,
Chris Bosh
went 3-11 for eight points and there were 14 combined turnovers between Wade and LeBron. It wasn't exactly pretty.
But still, this Heat team is going to be huge. Especially once there are actual storylines to go with the games. Once there's a level of importance to who the Heat are playing and it's something other than just the first look at them, we're all going to be incredibly intrigued. I have a feeling that 7.4 number may be topped once or twice as we go on this year.