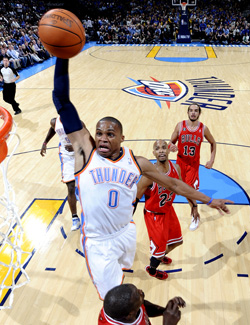 The Thunder are young, but don't overlook the smart, efficient way they play and how that helped them to a big opening night win over the Bulls on Wednesday.
Posted by Matt Moore
Kids these days. One minute they're struggling to win games against bottom-feeders and the next they're rolling out a huge win in front of a raucous crowd with a combination of stout defense and efficient offense. If there was any question about whether the Oklahoma City Thunder were really grown up; last night they
answered that question with finality in their 106-95 win
over the Bulls. It wasn't just the win over a tough, gritty, talented Bulls team that even without
Carlos Boozer
is loaded with talent and expected to contend in the East, it was the way they did it. And that started with
Russell Westbrook
.
While
Kevin Durant
led the team with 30 points, as he will nearly every single night, he did it on just 9-of-24 shooting. On the other side of the aisle, the Bulls' leading superstar,
Derrick Rose
, was even less efficient, launching 31 shots with only 12 makes. That's 39% for a player who was expected to have a much-improved jumper. For Westbrook? Try 28 points on 8-of-15 shooting and 12 of 13 from the stripe. Throw in 10 rebounds, six assists, three steals, and a block (and an acceptable three turnovers considering his usage)? You've got a masterful performance that should put Westbrook in the talks of the elite point guards in the league.
Westbrook wasn't just blinding with his speed, he was patient and deliberate when the situation called for it. It's been this progression since his rookie season two years ago that has brought him to stardom. Well, that and his insane athleticism and uncanny ability to both see the floor and attack opportunities to get his own buckets. It's the complete nature of his game, including his spacing defensively and intensity that makes him so dangerous ... and at such a young age (Westbrook turns 22 next month).
Coach Scott Brooks spoke strongly about Westbrook's performance after the game (as told to CBSSports.com's Royce Young): "I hoped we would start making some shots and we did, but I thought Russell did a great job of leading us, controlling the game, picking his spots and figuring out where they needed the ball. He filled up the stat sheet and that's what we like about Russell. He's not a one-dimensional player."
But of course, Westbrook, forever the second fiddle to Durant, will be looked over. Just as some will continue to look over the Thunder, even as conversely the hype continues to grow and they thrive as one of the most fun teams in the league. Don't believe me? Watch the Thunder in transition. According to Synergy Sports, the Thunder were 10 of 13 in transition last night, getting points 78% of the time. It's a high efficiency opportunity but the Thunder took it to its furthest extent. And they were just as good on the other side of the ball.
While Westbrook and company were harassing Rose into a 12-of-31 shooting night, Oklahoma City poured it on defensively across the Bulls. While an 11-point win doesn't look overwhelming, the Thunder held the Bulls to a 96 efficiency (96 points scored per 100 estimated possessions; need to be above 100 to be "good" in this category) while logging a 107 themselves. The Thunder got to the stripe by forcing the issue (47 free throws to only 22 for the Bulls: thanks home-court advantage!), and held the Bulls to 14% shooting from the perimeter.
Those are numbers. In execution, the Thunder were always attacking and then pulsing back on defense. With the Bulls missing Carlos Boozer, there was no need for the frontcourt depth of OKC to rear its head. Coach Scott Brooks only went to a nine-man rotation, and
Serge Ibaka
was the only real "big" off the bench. Then again, with Ibaka bringing 8 points, 9 rebounds, and 4 blocks in 31 minutes, Brooks didn't really need to turn to
Cole Aldrich
or
Byron Mullens
(
Nick Collison
is out with an injury).
For the Bulls, things looked eerily similar to last season. Unable to spread the floor with shooters, Rose was harassed by multiple defenders, Noah a beast but the bench a no-show. Each team shot exactly 45 jumpers, and the Bulls actually had a higher effective field goal percentage (eFG%, weighing 3-point attempts), and were better on the offensive glass. But the Thunder turned transition opportunities into layups and got to the line at will. With the Bulls aiming for long jumpers and a silent 3-point attack, this is the result.
The Thunder are exciting. They've got highlights (
like this one
, good night, nurse). But they're also very smart, and that starts with Russell Westbrook. They play with emotion but they play with control. And if the Thunder are looking to take the next step in their rise to NBA championship contention, this was a solid first step. Teacher's pets, I suppose.