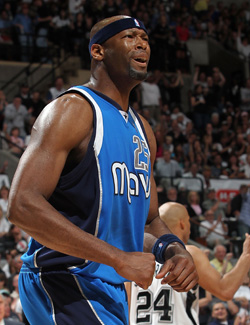 Report says Dampier will sign with Rockets. Posted by Matt Moore
Our long national ... apathy may finally be over.
Hoopsworld is reporting
that Erick Dampier has made his decision, many moons after "The Decision", and will join the Houston Rockets as a backup center. The Rockets are at 15 players, so there will have to be cut to make room for him, likely
Ishmael Smith
. Smith may wind up in the Rockets' D-League affiliate Rio Grande Valley Vipers who they use quite a bit.
Dampier makes for a valuable addition to the Rockets. Against the
Lakers
, when they had a center with size in, they flourished. Those players went out due to minute restrictions or endurance, and production dropped. They need that size, despite having an absolute plethora of bigs. Dampier gives them elite size to combat their opponents' bigger lineups. He's slow, old, and never been a great scorer, but he does his job and does it well. In limited minutes, he could pack a big punch for Houston, who has struggled in rebounding through their first two games.
Dampier had been pursued by Toronto, Portland, Phoenix and Milwaukee, with heavy talks of him signing with all three. But Dampier took his time, or those teams pursued other options, and so now Houston will bring him in and slide
Chuck Hayes
to backup power forward. The race for size in the Western Conference continues.