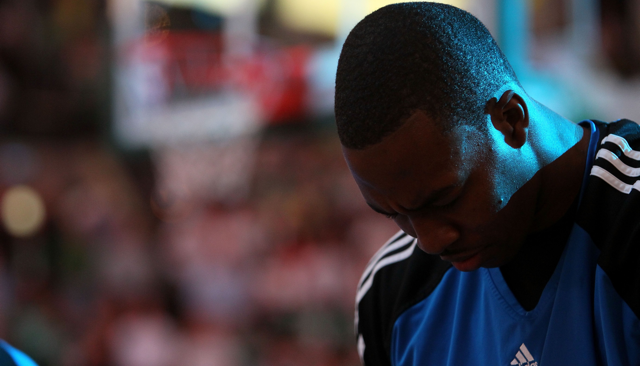 Posted by Matt Moore
The central rivalries in the NBA this season are going to be ones that are easy sells.
Celtics
-Lakers is as easy as it comes, that's the McDonald's of NBA rivalries. There's always one around the corner. (And if you watch too much, you might get sick.) Celtics-Heat is your classic old-school vs. new-school approach. Which is, again, easy.
Thunder
-Lakers,
Spurs
-Mavericks,
Bulls
-Knicks, all the hits are easy to find on your local radio station.
But the actual best rivalry in the NBA is actually contained within one state's borders. That's right. The
Magic
Kingdom vs. South Beach Camelot. The Mouse Vs. The House Riley Built. Superman Vs. the Three
Kings
. OK, I'm done. It's freaking
Heat
vs. Magic. And the first of this new rivalry tips tonight.
Think it's forced just because the two occupy the same state boundaries? Try talking to the two of them. I had a chance to a few weeks ago at the Gatorade Replay event. But the thing that struck me more than anything is the underlying tension whenever you say the word "Miami" to
Dwight Howard
. Our
own Ken Berger found this out first hand
in his interview with Dwight before the season. An example:
"We heard it all summer: 'The Miami Heat are going to win. They're going to do this and do that,'" Howard said. "In our minds we're like, 'Hey, they haven't played a game yet so what makes them champions?'"
Well, OK, then, Mr. Cranky Pants, how did you react to the whole Miami Triad thing?
"My first reaction was, 'I cannot wait for this season to start,'" Howard said. "Not, 'Oh, they're going to be so good.' I don't think anybody's afraid of those guys. Everybody's looking forward to playing them. They're looking forward to playing everybody else. They still have to dress up and play."
That's a pretty positive reaction. When I talked to Howard in Chicago for the
Gatorade Replay event
, with Triad member
Dwyane Wade
close by? There was a similar tone.
"They're going to be great. But they gotta play games. We're looking forward to that challenge. It's go-time. "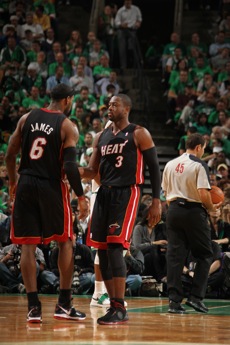 After talking to Howard this summer? I immediately started predicting he would average over 30 points a game against the Heat. And I'm still convinced that will happen.
That's pretty much what you get out of Howard when you bring up the Heat. As he has dealt with the talk of this team
all. Summer. Long
. Howard has heard no end to the talk about Miami and the new super core. It started plaguing him right after it happened, prompting him to decline questions about Miami for a time, until he realized it was pointless. In Chicago, he was friendly with Wade, the way superstar NBA players are. It's a brotherhood, after all, and in the end these guys know that one another helps them get paid. But there were still moments where you could tell Howard's motivation has grown and expanded after listening to the Heat hype for three solid months.
Make no mistake, behind the lighthearted superhero facade is a man who is very bitter over the way three players have supplanted themselves not only above him in the preseason rankings, but butted him out of his own state. Florida is supposed to be Howard's home, and instead all he hears about are his neighbors to the south. This has disturbed him, compounding the anger and frustration left over from a postseason where the Celtics took the bite out of the dog and left his team whimpering as they advanced to the Finals. Boston returned Orlando to where most people consider it: also-ran status. Miami has made it a sideshow.
Howard doesn't like that. Howard Smash.
Howard worked with Hakeem Olajuwon in the offseason,
which was one of the biggest stories of the summer
. Howard told me that footwork was the biggest thing he learned from "The Dream" but that a lot of what he learned wouldn't translate to today's game. Still, the impact has already been evident, as Howard looks lighter, quicker, and more agile in the post than he has in the past. He's going to need it and want that edge.
After watching the very visible agitation on Howard's face throughout the summer at all the attention the Triad have gotten, it's clear. Howard is taking this personally, and is determined to put his stamp on the situation by showing that it's been his team in the Eastern Conference Finals the past two years. His team that is loaded top to bottom not just the top. And if the Heat weren't aware of that, maybe they should stop making commercials and check out the games. Not just the preseason where they ran every team out of the building, but the season opener in Orlando Thursday night where the Magic blistered the
Wizards
. It's a lottery team, no doubt. But the Magic are still dominating to such a degree that it should be noted: they are locked, loaded and seem to be even better than they were last year.
Jameer Nelson
is getting over his growing pains.
Ryan Anderson
looks poised to take a step forward with
Rashard Lewis
spending more time at the 3.
J.J. Redick
continues his progression, the team chemistry is improving from a shakier situation last year and though it's early,
Vince Carter
is attacking the basket. This team is set up to compete deep into the playoffs and provided they stay healthy and don't encounter a team on an unstoppable roll like the Celtics got on, it's a wonder they're not considered the favorites, even with South Beach's new three favorite sons. And all of this is before we get to the Supeheroic Destroyer of Worlds, Dwight Howard.
All that anger, disappointment, and bitterness we expect out of LeBron after losing to the Celtics last season? Howard's the poster-boy for those feelings on the Magic, and it bleeds through the organization. The team knows how close it was in 2009 when it had its chances, even in a
Lakers
-dominated Finals. Orlando just needed to be a little bit better, a little bit hungrier. And if any team looks it this year, it's Orlando.
So Friday night the two face off in what will undoubtedly be a blistering, physical game. Even if the Heat are as off-kilter as they were against the Celtics and at times against Philadelphia, they'll have an emotional lift from the home crowd (
though apparently not that much of one
- Jeez, Miami, get it together). This is the third game of the year for Miami, the second for Orlando. But it's a big game. It sets the tone for how the Battle of Sunshine will take place.
It's a chance for
LeBron James
to show that he can work as the distributor of a mega-talented team. It's a chance for Erik Spoelstra to show he can get the most out of this wonder-team he's been blessed with. It's a chance for Dwyane Wade to look like Dwyane Wade on national television.
And it's a chance for Dwight Howard to smash apart the preconceived notions of everyone who counts the Heat in and the Magic out.
This is going to get nasty.