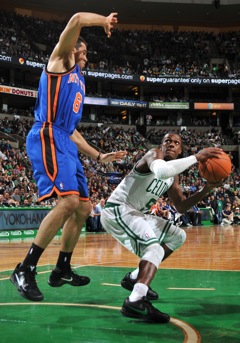 Posted by Royce Young
Friday night against the New York
Knicks
,
Rajon Rondo
scored 10 points. He also grabbed 10 rebounds. And wouldn't you know it, he put up double-digit assists too, notching a triple-double. But this wasn't any triple-double. This was a history-making triple-double.
In Boston's 105-101 over the Knicks, Rondo dished out 24 assists tying the record for most assists ever in a triple-double. (He tied Isiah Thomas whose came in a double-overtime game.) Oh, and on top of that, he also tied the record for most assists after three games in history with 50. Fifty. FIFTY assists. Through three games, Rondo is averaging 16.6 assists per game. That's like good or something.
In Friday's game,
here's how his assists lined up:
12 led to baskets at the rim, two to shots 10 feet or closer, one 10-15, five from 16-23 (hello
Kevin Garnett
pick-and-pop) and four to 3-pointers. Rondo distributed the ball far and wide like a quarterback finding multiple receivers on a big day.
Garnett told reporters after the game, "Sometimes he'll see something that you don't see and he'll make you see it." I think that's a fairly tremendous way of describing a playmaker like Rondo. Similar to a great quarterback throwing a wide receiver open (two football references in one post!). I love that expression.
Rondo is off to a fairly fantastic start with 17 assists in game one, nine in game two and then 24 in the third game. Some are making the case that Rondo might be the best point guard in the league and while that's of course debatable, he's at least worth talking about. Obviously it's fortuitous for Rondo that he happens to be able to dish primarily to
Paul Pierce
,
Ray Allen
and Garnett, three future Hall of Famers, but Rondo is key in getting them their open looks.
We're just three games in, but Rondo is already putting a historical stamp on this season. He won't keep the pace for the entire 82, but for now, looking at 16.6 apg is pretty fun.