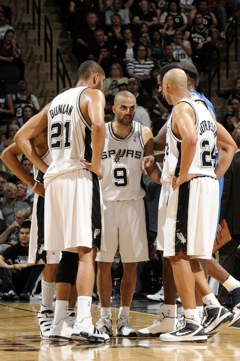 Posted by Royce Young
After a summer of wondering if he'd go elsewhere - specifically New York -
Tony Parker
is
staying in San Antonio.
The deal is for four years and close to $50 million,
reports Adrian Wojnarowski of Yahoo! Sports.
For whatever reason, whether it be
George Hill
's rise or some injuries that kept Parker out last season, people seemed to think Parker was dispensable. Another funny thing is that people seem to think he's older. In reality, he's just 28 and with a four-year deal, will be with the
Spurs
through the prime of his career.
The Spurs Big 3 though of
Manu Ginobili
, Parker and
Tim Duncan
is now staying together for at least one more season. Ginobili is in San Antonio until 2013, but Duncan can opt out next season. It's somewhat unlikely that he will, but there's a possibility that it happens. But after the trade rumors that bounced around for Parker, it's clear he's not going anywhere.
Hill is signed through 2012, but clearly he's not staying with the Spurs, unless he plans on moving to shooting guard. Hill is a starter in the making and will likely demand a contract over the Spurs head when he's up. It's not impossible to keep both but like I said, it would probably require Hill moving positions and cracking the starting lineup, therefore getting starter money.
A question is though, can Parker assume the role as the front man for the Spurs? Consider his numbers over the past couple seasons: consistently around 18 ppg and around 6.0 apg. But as one of the "younger" pieces on this roster, he's likely going to be part of some transition. Gregg Popovich is trying to get his team to play faster and that suits Parker's abilities. But how will a future roster fill in around him? The key with any good point guard is the players around him. And if Parker's running mates move on somewhere else and he's only left with
Matt Bonner
,
James Anderson
and
DeJuan Blair
he probably isn't enough on his own to get things done.
Somehow, San Antonio continues to push forward with good teams despite everyone waiting for a down year. In retrospect, it's kind of funny that people thought the Spurs would move Parker. Unless Parker really wanted a change of scenery or was thinking he could get more somewhere else, the San Antonio formula is to sign Parker to a multi-year and make sure he's part of the core for years to come. Other teams have started to adopt that same model, most notably Oklahoma City. The
Thunder
locked up
Kevin Durant
already, but with
Jeff Green
's contract issue yet to be resolved and
Russell Westbrook
up for an extension next summer, OKC will have to figure it out.
I think part of the key is finding guys that are willing to be part of a process and aren't necessarily looking for brighter lights. Again, Parker could've looked elsewhere. I'm sure there was a draw to New York and playing in Mike D'Antoni's system. But it's almost like if you're a part of this Spurs team, you understand you're not going anywhere. There's a real culture there that just keeps things together. it starts with Duncan and Ginobili, but obviously the torch is in the process of being moved to Parker.
The fact San Antonio inked Parker should come as no surprise. R.C. Buford is all about keeping the pieces together. It's been what's kept the Spurs as one of the league's best teams for over a decade now and it's what will keep them good while Parker plays out this extension. The worry is after next year when Duncan can move on. I guess all San Antonio needs to do is find another Tim Duncan. That shouldn't be too hard, right?