Maurice Lucas, power forward for the 1977 NBA champion Portland Trail Blazers, passed away at age 58 on Sunday. Posted by Ben Golliver.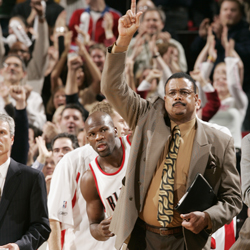 Jason Quick of
The Oregonian
reports on Twitter
that former Portland Trail Blazer power forward Maurice Lucas passed away on Sunday. Lucas,
a four-time NBA and one-time ABA all star
in a career that spanned 14 years and eight teams, had battled cancer for a number of years. Lucas will be remembered, particularly in Portland, as one of the league's great enforcers. In a small town that often feels picked on by the country's larger cities, Lucas reached heroic heights, as he never shied away from contact or conflict. Lucas famously got into it with Philadelphia
76ers
center Darryl Dawkins during Game 2 of the 1977 NBA Finals, and many believe the incident turned the series in Portland's favor. The Blazers went on to defeat the Sixers 4-2, winning what is still the only championship in franchise history. Here's video of the fight, courtesy of
patvilhauer on YouTube
. For this combination of fearlessness and ultimate success, Lucas will stand as one of Portland's most beloved professional athletes for decades to come. Former Blazers center and NBA Hall of Famer Bill Walton, Lucas's teammate on the 1977 title team, recently called Lucas "
the greatest Portland Trail Blazer of all time
." Walton also named his son, Los Angeles
Lakers
forward
Luke Walton
, in honor of Lucas. Lucas began his career in the ABA, but was drafted by Portland when the league folded. After a four-year stint in Portland, Lucas went on to play for the New Jersey
Nets
, New York
Knicks
, Phoenix
Suns
, Los Angeles Lakers and Seattle SuperSonics. He then closed his career in Portland in 1988, and shifted into an assistant coaching role the following season. More recently, Lucas served as an assistant coach under Blazers head coach Nate McMillan, starting in 2005. He primarily focused on developing Portland's big men both physically and mentally, calling on his playing experience to tutor players like
LaMarcus Aldridge
and
Greg Oden
. Cancer forced him from the bench multiple times, and Lucas was unable to return for the 2010-2011 season. His No. 20 jersey has been retired by the Blazers and it hangs in the Rose Garden rafters. Maurice Lucas was 58 years old.