Posted by Royce Young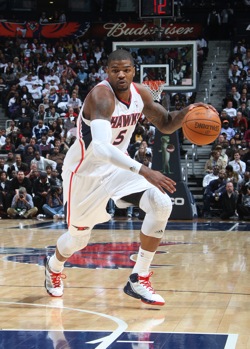 With time running out, the Atlanta
Hawks
added some more zeroes to their payroll but signing
Al Horford
to a five-year, $60 million extension. That's the Hawks second big contract to hand out in the past few months with the first being
Joe Johnson
's massive $120 million deal.
Atlanta has its core all put together and the young team is starting to come of age. Problem is, there might not be enough to go around.
Chad Ford of ESPN.com pointed out
that with Johnson's big deal plus Horford's new contract, keeping those two plus
Josh Smith
and
Marvin Williams
won't be easy. In fact, it might be impossible without busting the luxury tax. If the current roster stays the way it is,
Jamal Crawford
is most definitely not getting re-inked to any new deal soon.
So could general manager Rick Sund be forced to move a core piece? Potentially, yes.
Ford said that Sund "flirted" with trading Smith last summer before changing his mind. He's not available now, but a good number of GMs feel he mght be for the taking at the trade deadline. Smith makes over $12.5 million in 2011-12.
The Hawks would prefer to move Williams who hasn't lived up to his draft number. Williams has struggled to find a place on the team and has shifted roles a number of times. And at $8 million per year, his contract could be nice to unload. However, Williams was reportedly shopped this summer and didn't get many bites.
Ford says the
Knicks
,
Nets
,
Pistons
and
Suns
have all shown interest in Smith in the past and could be contenders for his services at the February deadline. But would Atlanta be willing to move him if they're in the middle of the Eastern hunt? Surprisingly, yes.
Atlanta probably feels like its set to lose one of its key pieces, because of the versatility on the roster. Smith is obviously a top tier player and not someone easily replaced, but because of Smith, Horford has been playing out of position the past few years. That of course means Atlanta would need to find a new big man, but say Smith was dealt to Phoenix where he'd be a beautiful fit with
Steve Nash
. The Hawks could get back
Robin Lopez
and another player and likely be pretty happy with that.
It seems awfully bold of the Hawks to potentially move Smith, one of the league's most talented, athletic and versatile players. But in this NBA landscape where money is everything, sometimes, hands are forced. Horford got paid, Johnson got paid and as a result, the Hawks might have to trim some off the roster. It would be a shame to see and it's still a long way from happening.