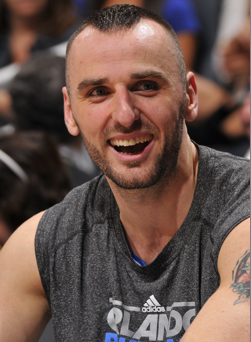 Posted by Royce Young
Most people are enamored with the Big Apple. It's big, it's noisy and the lights are bright. Everyone athlete is drawn to playing professional sports there whether it be with the Yankees,
Knicks
or Giants/Jets.
But don't count Orlando center
Marcin Gortat
as someone easily swooned by NYC. He was asked about how cool it is to be playing in New York (the
Magic
visit the Knicks) and about the overall draw of New York. His answer:
"The only thing I remember about New York is — it's sad — but it's terribly dirty," Gortat told the Orlando Sentinel. "And it smells bad, too. I'm sorry to say that, and I know New York fans will hate me probably. But it's an incredibly city, great city, great fans… I love the fans and I love the famous people. I remember my rookie year I was sitting in the second row trying to find as many famous people as possible. But now, the memories I got is it's just a dirty, dirty place."

Ah, I'm sure New Yorkers will totally not care about you calling the city dirty and smelly. Especially since you're a visitor playing basketball in their fine city. But before you get too mad, he said he loves the fans! So that should make it cool, right?
What's kind of funny is how clear Gortat made his point. It wasn't, "Oh, New York is great but it kind of smells." It was, "It smells bad, it's terribly dirty and oh yeah, it's a dirty, dirty place." Like he was really trying to (Polish) Hammer the point home.