Minnesota Timberwolves forward Michael Beasley suffered a hip injury against the Miami Heat on Tuesday night. Posted by Ben Golliver.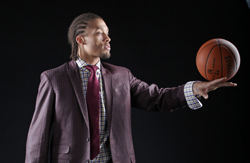 Minnesota Timberwolves forward Michael Beasley, who
recently said he played for the "worst team in the NBA,"
was off to a hot start Tuesday night before suffering a hip injury that forced him from the game. Beasley, who was making his first return trip to Miami after being traded by the Heat to the Timberwolves over the summer, scored 11 points in 11 minutes of action. At roughly the eight minute mark of the second quarter, Beasley was fouled and fell to the ground, injuring his left hip. He left the court to receive medical attention and, by league rules, was not eligible to return to game action because he was not able to attempt a free throw he had been awarded on the play. Beasley then received an X-ray in the arena during the game. Jerryd Zgoda of the Star Tribune
reports on Twitter
that the X-rays came back negative and that the team was calling the injury "a left hip contusion." It's not immediately clear whether the injury will force Beasley to miss any time. For more on the injury,
click here
.