Los Angeles Lakers guard Kobe Bryant has committed to playing for Team USA for the 2012 Olympics in London. Posted by Ben Golliver.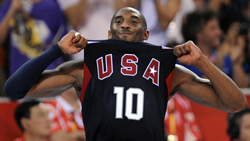 After winning NBA titles in 2009 and 2010, Los Angeles Lakers guard Kobe Bryant is looking for another back-to-back: Olympic gold medals. Bryant, a key member of the 2008 USA men's national team that took home gold in Beijing has committed to play for Team USA in the 2012 London Olympics. Mike Bresnahan of the
Los Angeles Times with more
.
The Lakers' shooting guard green-lighted another run at the Olympics, committing to it Tuesday on Mike Krzyzewski's Sirius XM radio show. Krzyzewski coaches Team USA and Duke.
"You guys want me there, I am there and I'm ready to defend," Bryant said of the London Games. "And then when you guys need me to put some points on the board I'll do that too."
Bryant was a major force for Team USA in Beijing, making up a triumvirate of stars with Miami
Heat
guard
Dwyane Wade
and then Cleveland
Cavaliers
forward
LeBron James
. Bryant finished with 20 points, including a number of big shots down the stretch, to lead the
USA past Spain in the gold medal game
. The early commitment is big news for Team USA, which is also expected to add Oklahoma City
Thunder
forward
Kevin Durant
to the 2012 team. Durant led a watered-down Team USA to a gold medal in the 2010 FIBA World Championship in Turkey, in the absence of Bryant, Wade and James. Bryant's presence may help influence other big-name stars to re-up on their national team commitments, which requires a significant time investment during the off-season.