A late-night rant about Boston Celtics power forward Kevin Garnett appeared on the Twitter account of Detroit Pistons forward Charlie Villanueva. Posted by Ben Golliver.
Between 2 a.m. and 3 a.m. on Wednesday morning, multiple messages appeared on the Twitter feed of Detroit Pistons forward Charlie Villanueva, who goes by
@CV31
on the social networking site. Villanueva is a regular Twitter user, but these messages were different, as they were extremely negative and directed anger and frustration at Boston Celtics power forward Kevin Garnett. A first message read, "KG talks alot of crap, he's prob never been in a fight, I would love to get in a ring with him, I will expose him." Shortly thereafter, two additional messages appeared on the account, "KG called me a cancer patient, I'm pissed because, u know how many people died from cancer, and he's tossing it like it's a joke ... I wouldn't even trip about that, but a cancer patient, I know way 2 many people who passed away from it, and I have a special place for those." Screenshots of the tweets are visible below.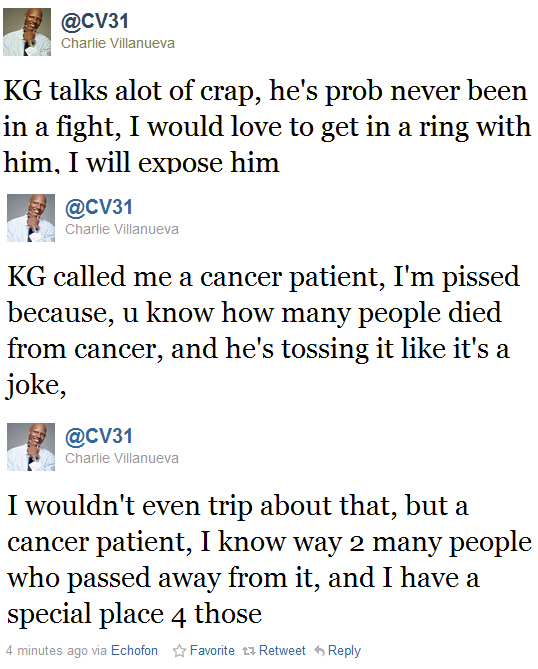 The Pistons played the Celtics on
Tuesday night in Detroit
, and
Villaneuva and Garnett were both issued technical fouls
after a minor confrontation late in the game. Villanueva has dealt with jokes about his appearance for years, as this
2006 SI.com article by Andrew Lawrence
makes clear. Villanueva suffers from "a mysterious skin disease known as alopecia universalis," writes Lawrence, "which would slowly make him hairless." NBA players have had their Twitter accounts hacked in the past, most memorably Celtics guard
Ray Allen
,
whose account had explicit messages posted on it
. It's not immediately clear whether Villanueva was posting the messages or if his account was hacked, although shortly before the Garnett-related tweets were posted, the following message was posted: "Just landed in the ATL, we must win tomorrow, we will turn this around, I'm a believer." The Pistons, who are one of only two teams in the league that are 0-4 on the season, along with the Philadelphia
76ers
and the Los Angeles
Clippers
, play the
Hawks
in Atlanta on Wednesday night.
Update (Wednesday)
:
ESPN's Justin Verrier confirms
that the tweets were written by Villanueva himself.