Denver Nuggets coach George Karl, who has battled cancer, responds to alleged cancer-related trash talk by Boston Celtics forward Kevin Garnett, to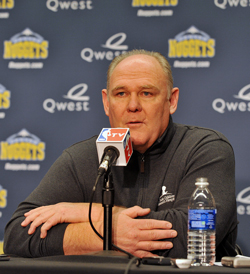 Detroit Pistons forward Charlie Villanueva. Posted by Ben Golliver.
Denver Nuggets head coach George Karl has been through a lot this year. Karl was
diagnosed with throat cancer
and underwent grueling treatment for the disease that forced him from the bench during the stretch run and the playoffs. The details of his treatment,
as documented by ESPN's Rick Reilly
, who shadowed Karl for a day, are incredibly difficult to read.
With only three of his torturous six weeks of treatment done, and the inside of his mouth looking like he just took 100 bites out of a lava-hot pizza slice, and his head throbbing and his eyes hollow, Karl looks like a guy who should be on a stretcher, not an NBA bench.
"George, this is only going to get harder," a nurse tells him. "You're not going to feel like working." Clearly, she's never met George Karl.
Suddenly, the huge gray machine whirs like a giant Transformer, turning sideways, first this side, then that, as though it's trying to decide how to eat him. Then it zaps his throat and neck lymph nodes, ravaging them. It gives him a radish-red rash that's covering his face, chest and back. I know. He shows me. He shows me many things I don't want to see. He's doing it because he wants people to know exactly what it's like. Wants to take the fear and mystery out of it for people.
While Karl had trouble speaking and watched his Nuggets bomb out in the first round of the playoffs to the Utah Jazz, he maintained his commitment to returning to the bench throughout the summer, and he made it back. His Nuggets currently sit at 2-1 and, while embroiled by Carmelo Anthony's ongoing drama, things could be a lot worse.
That brings us to Tuesday night, when Detroit Pistons forward Charlie Villanueva posted
a number of messages on Twitter
, stating that Boston Celtics forward Kevin Garnett called him a "cancer patient" during Tuesday night's game between the Pistons and the Celtics. Villanueva suffers from a condition called alopecia universalis, which has rendered him hairless. Alopecia is not cancer, so Villanueva's baldness is no more similar to someone who has undergone radiation treatments than it is to someone that simply has male pattern baldness. Clearly, Garnett's alleged statement was not only medically inaccurate, it was also way over the line of common decency, even by NBA trash talking standards. You probably wouldn't be surprised at the level of vitriol during heated exchanges on the hardwood -- it's astonishing how many claims are made regarding opponents interacting sexually with other people's mothers -- but there are limits. Racist comments, references to the Holocaust and cancer or other life-threatening disease talk are rightfully still off-limits, even given the competitive, charged atmosphere of an NBA game. The NBA existence isn't like everyday "real life," but it's not completely divorced from reality either. And that goes for the pain of cancer, given that just about everyone has either dealt with the disease personally or through a family member or friend. In that vein,
Benjamin Hochman of the Denver Post sought Karl's response
to Garnett's taunts today. Here's what Karl had to say.
"My initial response is – it's disappointing and crossing the line. I don't know if cancer is an epidemic in our country, but we accept it as a problem and it's a very dangerous part of life for everybody. Making fun of it, that's part of (some people's) sarcastic side of trash talk. … Sometimes, responsibility comes from knowing when to argue when not to – when to cross the line and when not to cross the line. So philosophically, if Kevin and I were close friends, I'd probably call him up and say, 'I don't think that's right (what you said).' But I also believe that competition makes us do things when we don't have our total mental morality in line. We act like children at times, even coaches."
While a generally accepted code of silence among NBA players (what happens on the court, stays on the court) was broken by Villanueva, his online outburst is understandable. As for Garnett? There's no defending his alleged statements, not as an attempt to gain a competitive edge, not as "just part of the game." On this one, Garnett is not pushing the envelope like he has many times during his career, he's way off the ethical cliff. And it shouldn't take a phone call from Karl to help him understand that.