Portland Trail Blazers rookie guard Elliot Williams is "likely" done for the season after suffering a dislocated patella. Posted by Ben Golliver.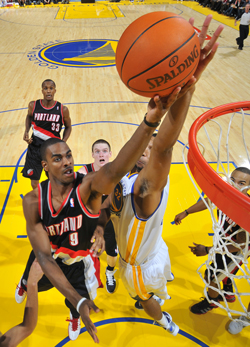 It's Déjà vu all over again for the Portland Trail Blazers, as the organization announced today that reserve rookie guard Elliot Williams, the team's first round pick in the 2010 NBA draft, will undergo surgery on a dislocated patella and is "likely" done for the rest of the 2010-2011 regular season. Last year, the Blazers lost both
Greg Oden
and
Joel Przybilla
to season-ending knee injuries. From a team release...
The injury occurred Wednesday, Nov. 3, during court conditioning drills at the team's Practice Facility. Williams will be re-evaluated after surgery but will likely miss the rest of the regular season.
Williams is a high-flying combo guard out of Memphis with loads of athletic potential. But he had not yet cracked the rotation in Portland's crowded backcourt, even
after the Blazers traded
Jerryd Bayless
to the New Orleans
Hornets
. A more natural fit at the two guard position, all star
Brandon Roy
and reserves
Rudy Fernandez
and
Wesley Matthews
make finding playing time impossible at that spot. With veteran point guard
Andre Miller
, surprising rookie
Armon Johnson
and the decision to keep end-of-the-bench point guard Patty Mills clogging up the point guard position too, Williams has been on the team's inactive list for much of the preseason. Williams has had previous issues with his right knee, suffering a bruise during a pre-draft workout with the San Antonio
Spurs
that led the Blazers to
hold him out of the 2010 Las Vegas Summer League
for precautionary reasons. While this injury is not disastrous for Portland this season, it's another log on top of the fire for those who believe the franchise is cursed with injuries.