Boston Celtics president Danny Ainge stands up for forward Kevin Garnett, who had been the subject of criticism after Detroit Pistons forward Charlie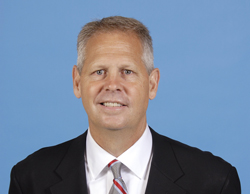 Villanueva accused Garnett of calling him a "cancer patient." Posted by Ben Golliver.
Just when you were starting to get completely sick of the feud between Detroit Pistons forward
Charlie Villanueva
and Boston Celtics forward Kevin Garnett, prompted by some Villanueva
tweets that accused KG
of calling him a "cancer patient," Celtics president Danny Ainge steps boldly into the fray to defend Garnett's honor. In an interview on Boston radio station WEEI, Ainge reportedly called Villanueva's claims "ludicrous" and accused him of using Twitter to promote himself rather than spread an awareness message.
ESPN Boston has a partial transcript
of the interview.
"There's one thing that I know for sure, and it's that KG would not offend cancer patients," Ainge said. "That makes no sense. It makes no sense on a lot of fronts. Not only is he experiencing it in his own family, but that's just not something I've ever heard -- in 30 years -- ever say, in trash talking. What is logical in a trash talking situation for a player to say to another player, 'You have cancer' or 'You are cancer'?"
"...Tweeting is about self-promotion in most cases," he said. "He's [Villanueva] not trying to be a public servant by telling everybody. As a matter of fact he's the one who brings light to this attention ... There's self-promotion in tweeting -- all the time. You are talking about a guy who tweets in the middle of a game. Talk about self-promotion.
The sentiment expressed in Villanueva's tweets immediately
drew criticism from cancer surviving coach
of the Denver
Nuggets
George Karl. In an
official statement Wednesday
, Garnett denied calling Villanueva a "cancer patient," stating that he instead said Villanueva was "cancerous to your team and our league," and he
did not apologize for his actions
. While Ainge's message might not have been necessary given that the public was just about getting ready to move on from the situation, it exemplifies effective management in a business that's subject to public scrutiny. Although he goes too far when he blames Villanueva, who is the victim here, Ainge's job, first and foremost, is to defend the reputation of his players and his organization. He succeeded at that task, without question. By standing up so forcefully for Garnett, Ainge sends a clear message to the entire organization and its fan base that he will defend his players, especially if they feel they have been wronged or if they are suffering intense criticism. By speaking so frankly, Ainge also invites criticism of himself, which neatly takes some
Heat
off of Garnett. It's a win-win. Now that we've heard from all of the involved parties, and all of their supporters and sympathizers, hopefully that is the last of it.