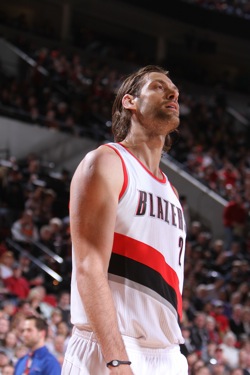 Posted by Royce Young
Some sad news out of Portland late Thursday - Blazer big man
Fabricio Oberto
has unexpectedly announced his retirement due to recurrent palpitations related to a prior cardiac condition.
Oberto experienced lightheadedness and dizziness during the first half of Portland's game at Milwaukee on Nov. 2 and was just expected to miss a few games. But thinking forward, Oberto made a good decision and has put basketball second to his health.

"I made this decision to put my health and my family in front of basketball," said Oberto in a press release. "It was a tough decision to make after playing for so many years, but it was the right one."
Sources tell CBSSports.com's Ben Golliver that the Blazers will work out Earl Barron, Dwayne Jones, Sean Marks and Shavlik Randolph. Ken Berger of CBSSports.com also confirms these names. The Blazers could also work out other players as well.
The Portland Tribune reports
Eric Boateng also will get a look.
In his sixth season in the NBA, Oberto appeared in each of Portland's first five games, averaging 1.4 points and 1.4 rebounds in 9.0 minutes.

"We want to thank Fabricio for his professionalism and hard work during his short time here," said Trail Blazers General Manager Rich Cho in the release. "It's unfortunate to lose him, but we respect his decision to do what's best for his health and his family."

A native of Las Varillas, Argentina, Oberto played four seasons for the San Antonio Spurs (2005-09), winning an NBA Championship as the starting center in 2007, before spending last season with the Washington Wizards.
So, what happens now for the Blazers? That's another big man that's gone down and without
Joel Przybilla
expected back until the end of the month, it's likely Portland will make some sort of move to fill the hole on the inside. With
Elliot Williams
being lost to a season-ending injury earlier Thursday, Portland needs bodies at least for the practice court now.
It's another blow to the Blazers but if anyone knows how to come this sort of adversity, it's Nate McMillan and the resiliant Blazers. Not that Oberto was a key piece the puzzle, but he was a quality body on the inside that was at least reliable to provide productive minutes. Portland will have to just do was it does and find another warm body to plug in. The good thing is, at least the Blazers are used to it.