The Portland Trail Blazers lost two players for the season on Thursday, and lost to their major rival, the Oklahoma City Thunder, on Thursday night.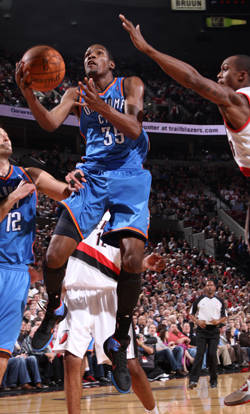 Posted by Ben Golliver.
The Portland Trail Blazers know a thing or two about bad days, especially after last season, when they suffered through some shell-shocking 24-hour periods.
Greg Oden
writhing in pain on the floor, his knee completely out of place. Joel Pryzbilla, injuring his knee on the court and then again at home in his shower a few months later, sitting on the bathroom floor, tears flowing as he realized what he had done. Draft night: firing a popular general manager out of nowhere, trading a popular player and leaving its fanbase in a state of shock. Thursday ranks right up there with any of them, though. In less than 10 hours, the Blazers: 1) lost first-round draft pick
Elliot Williams
for the season due to a knee injury
, 2) lost center Fabricio Oberto to
retirement due to a re-occurring heart problem
3) lost guard
Rudy Fernandez
for an indefinite time period (not expected to be too long) to a minor back injury and 4) lost at home in overtime to their chief rival, the Oklahoma City Thunder, after blowing a 13-point lead on national television. "Thank goodness it's over," said Blazers coach Nate McMillan after the game. "It's shocking some of the things that happened, but you have to move on." Even though the back half of their roster was seemingly melting away before their eyes, the Blazers came out relatively poised against the Thunder, dumping in 64.3% of their first half shots and scoring easily time after time. Blazers forward
LaMarcus Aldridge
was a major recipient, finishing a number of alley oops at the rim, without a Thunder defender in sight. Battling back from down double digits, the Thunder tightened up big time in the second half, limiting the Blazers to just 19 fourth-quarter points and, even more remarkably, holding the Blazers scoreless through the first 4:19 of overtime. Oklahoma City all star
Kevin Durant
switched onto Blazers all star
Brandon Roy
down the stretch. Roy finished with 19 points, five rebounds and five assists on the night, but he shot just 6-17 from the field and was 0-4 from the field in the fourth quarter and overtime. One of the misses was a potential game-winner in the final seconds of regulation, with Durant waving at his look. "They definitely keyed on some of the spots that I like to get the ball," Roy said. "So I think because of that we went other places and we just looked a little confused there. We've got to get better down the stretch. We've got to figure that out." Durant, meanwhile, was steely-faced before the game and animated throughout, looking to make up for a 6-24 shooting night in an ugly blowout loss to the Los Angeles
Clippers
on Wednesday. He did so in a big way Thursday, out-dueling Roy by putting up 28 points, 11 rebounds, two assists and three blocked shots. "We needed that a lot, man," Durant said. "It's kind of like a monkey off of our backs once the buzzer ended. It's a good win for us but we've got to move on." As for the Blazers, the injury monkey remains on their backs, and it only seems to increase in size. Portland played just eight players on Thursday due to all the injuries, and the team plans to bring in five free agent big men for a look, as first reported
on CBSSports.com
. "We'll be looking at guys," McMillan said after the game. "We certainly are looking at bringing somebody in." Portland needs the interior help if they are to keep pace with the Thunder (and the
Jazz
, and the
Nuggets
) for the Northwest Division crown. Make no mistake, that's still the goal for the Blazers, who remain in first place in the Northwest at 4-2, despite a Thursday they won't soon forget.