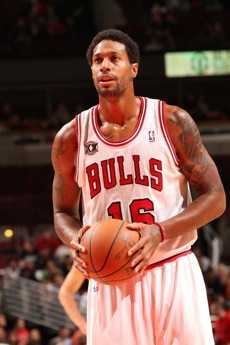 Posted by Royce Young
After he was cut by the Miami
Heat
to make room for
Jerry Stackhouse
, most thought guard Patrick Beverley would find a new NBA home soon. In fact, even Beverley thought the same thing tweeting about good news he was going to have.
Well, that good never came and the team expected to sign him, didn't. Why? Because the Chicago
Bulls
are keeping the roster flexible to explore future trades,
reports ESPN.com.
Reportedly, a trade sending forward
James Johnson
to Charlotte has popped up as an option, but the talks haven't become serious yet. What would the Bulls be seeking in return? No telling at this point, but as of now, their plans don't involve Beverley.
As is the case always in the NBA, nothing is done until it's totally done. So Beverley could still find his way into a Chicago uniform in the near future. The Bulls scheduled Beverley for a physical but nothing materialized. Chicago's options also include bringing back John Lucas III or Kyle Weaver, players that both worked out for the Bulls.
Chicago needs point guard depth right now.
C.J. Watson
has done a decent job backing up
Derrick Rose
, but his natural place is more of a combo guard. Most teams carry three point guards, but right now, the Bulls truly only have one plus a shooting guard pretending to be a point man.
Currently, the Bulls have 13 players on the active roster so any trade they're looking at will likely be a two-for-one type of a deal, so it's certainly something to keep an eye on.