Oklahoma City forward Kevin Durant got a chance to meet the President of the United States, Barack Obama. Posted by Ben Golliver.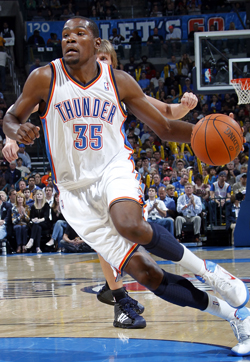 Just because Kevin Durant has risen to become the best professional basketball player in the world -- yeah, I said it -- doesn't mean his life story has stopped being one Hallmark card after another. In this
must-read NewsOK.com piece
, we get a great glimpse at Durant, the person, and a thorough follow-up on what was one of the more interesting stories of the summer. Back in August, Barack Obama, the President of the Unites States, and a huge basketball junkie, hosted NBA stars like
Kobe Bryant
,
LeBron James
and
Dwyane Wade
for a birthday basketball game. Once word got out, Durant, who hails from the greater-DC area and was the key piece on this summer's Team USA World Championship gold medal winning team, made it known on his Twitter account that he wished he could have been there. One thing led to another and in September Durant got to meet Obama for an informal game of pickup hoops.
"It was a good feeling to meet the president," Durant said. "Of course I always wanted to do that. Me being from D.C., it was pretty cool to see him. I was excited to get that opportunity. It's something I'm always going to remember."
The day happened to be one day after Durant's grandmother's 63rd birthday. And Barbara Davis received an unexpected and unforgettable birthday gift. She accompanied Durant and Durant's mother, Wanda Pratt, to the Commander in Chief's home court. "She's been in D.C. for 60 years and never got to meet the president," Durant said. "Now we have the first African-American president, and that felt good for me to give her that opportunity."
Durant also invited teammates
Eric Maynor
and
James Harden
to get in on the presidential treatment, and both left awe-struck and sworn to secrecy by Durant, who reportedly wanted to keep the meeting private. What a story. It begs just one question: Who snubbed Durant in the first place? Can we elect that person out of office, please?