Golden State guard Monta Ellis is off to a hot start, and the Warriors reportedly wouldn't trade him for Denver Nuggets forward Carmelo Anthony. Posted by Ben Golliver.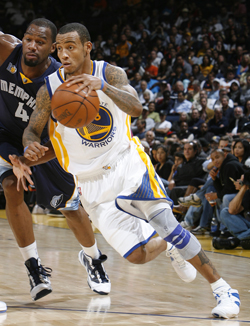 The Golden State Warriors, who haven't made the NBA playoffs since 2006-2007, are off to a stellar 4-1 start. Point guard
Stephen Curry
looks to have made a sophomore leap in his overall game, but off guard Monta Ellis has been the team's engine, averaging a career-high 28.6 points to go along with 3.2 rebounds and 5.2 assists through five games. When Ellis put up 25.5 points per game last season, it came with an asterick because of his offensive inefficiency. Ellis attempted a ton of threes, didn't get to the foul line as much as he should and shot 44.9 percent overall, a good number, but one with room for improvement. Through five games, Ellis has been an efficiency machine. He's shooting 51.9% percent from the field, outstanding for a guard. He's averaging more than eight free throw attempts a game, an excellent figure that speaks to his aggressiveness. And, most impressively, he's hitting an astonishing 70.6% of his shots from less than 10 feet
according to HoopData.com
. The question, of course, is whether those numbers are sustainable. The answer: probably not, but even if he cools off considerably we are likely to see a career year from Ellis this season. As such, the Ellis hype from the Bay Area has reached a new pinnacle.
MercuryNews.com reports
that Ellis, who has been mentioned in trade rumors off and on for the last few years, is now carrying a much steeper price.
Just before the season started, when reports surfaced about forward Carmelo Anthony wanting out of Denver, Bay Area News Group reported that the Warriors were offering anyone but Curry to get Anthony. As early as October, rumors circulated about the Warriors dangling Ellis to try to get someone such as Philadelphia's Andre Iguodala or Atlanta's Josh Smith.
At this point, neither Iguodala nor Smith would be enough in return for Ellis. One source said the Warriors probably wouldn't part with Ellis even if it meant landing Anthony, who some consider a top-five player in the NBA.
That "Carmelo isn't enough for Monta" statement is surprising at first glance, given that Ellis has never made an all star game while Anthony is a three-time all star and Olympic gold medalist. That said, you can see where the Warriors are coming from. In Anthony, you have a player who is near his peak and intent on winning big in the short term. In Ellis, you have a player who still has room to improve to reach his ceiling and who isn't married to an MTV veejay intent on big-market domination. For a smaller-market team on the rise like the Warriors, Ellis just fits better. Also, there's the matter of basketball fit with Warriors point guard Stephen Curry. Given the improvement he's shown from a play-making and offensive leadership perspective, Curry has the potential to be a perennial all-star, if he can limit his turnovers. His game is high-paced, instinctive and best for a motion offense. Ellis, who can score in a variety of ways and moves very well off the ball, is probably a better long-term pair for Curry than Anthony, who often finds himself in isolation or working out of the post. While Anthony is still a better overall player and has proven it during multiple deep playoff runs, a hot start from Ellis sure makes it seem like the gap between the two players isn't nearly as big as it seemed three or four months ago.