Portland Trail Blazers guard Brandon Roy says concern about his injury history and a heavy playing time load is changing his approach on offense.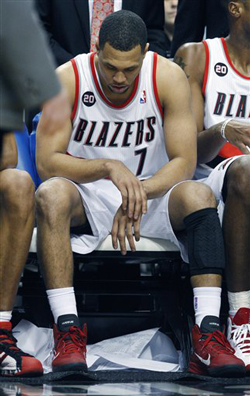 Posted by Ben Golliver.
The Portland Trail Blazers demolished the Toronto
Raptors
on Saturday night, despite being forced to play center Sean Marks on the same day they signed him and not having reserve guard
Rudy Fernandez
, who is dealing with back pain. Those are only the latest roster tweaks, however, as the Blazers are still without centers
Joel Przybilla
and
Greg Oden
, who were lost to season-ending knee injuries last year, and guard
Elliot Williams
and big man Jeff Pendergraph, who were both lost to season-ending injuries since the preseason started this year. The result has been an increased minutes burden for Portland's veteran starters, including point guard
Andre Miller
, center
Marcus Camby
, power forward
LaMarcus Aldridge
and all star off guard Brandon Roy. After the blowout win over the Raptors, which saw him play 37 minutes, Roy noted that he's been "playing more minutes than I've ever played" and
he told Blazersedge.com
that he's changing his offensive game because of it.
Roy told me he is already making adjustments to his game and schedule given the heavier minutes load and some mental attention he's paying to the miles that are already on his body. "I think now my practice time is going to cut down a little bit. In the games, I'm just trying to pick my spots a little more smarter. I think just with some of the injuries I've had in the past, just trying to make my reads, be a little bit smarter, attack the basket, try to get guys in the air."
While observers have been calling for Roy to settle for his jumper less and attack the basket more, Roy made it sound tonight like his new perimeter-first approach has been by design. "I'm just playing a little bit more of a ground game," Roy told me. "Some of that is just trying to continue to understand my body and how I can get my game off. Pick my spots about when to go to the basket. I'm not jumping as high as I was. Tonight I thought I finally got the pump fake off in the paint, got the foul. Try to do things like that to keep opening my game up."
Roy underwent minor knee surgery before the 2010 NBA playoffs and it sounds like he feels that his best athletic days are behind him. Last fall, Roy was given a 5-year, $80+ million contract primarily due to his leadership skills and offensive versatility. Roy built his reputation on being able to score in every way possible: above the rim, at the rim, in the mid-range, behind-the-arc, off-the-dribble, on the pull-up, you name it. Roy's ball fakes and jukes remain some of the craftiest in the league, but an inability to explode vertically and/or a hesitancy to drive to the basket hard on a regular basis makes him an easier cover defensively. As more game tape of the "grounded" Roy, expect defenses to crowd him on the dribble and double-team him in isolation less frequently. These changes put more pressure on Roy to hit contested shots and necessitate that some of Portland's auxiliary offensive options, guys like
Nicolas Batum
or
Wesley Matthews
, bring a little bit more firepower to the table. Roy's intelligence and skill level ensure he will be a premier two-guard for years to come. But his comments, which come just seven games into the season, make Roy sound like a player who is much older than 26 years of age. It's still too early for real concern, however, as the Blazers sit atop the competitive Northwest Division with a record of 5-2. But it might be time for Blazers coach Nate McMillan to adjust his rotations, easing up on the load being carried by Roy and the other veterans.