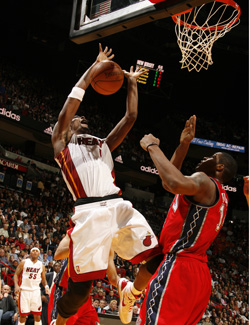 Chris Bosh struggling in the post and on the boards so far amid the Triad.
Posted by Matt Moore
When the Miami Triad got together this summer, each probably wondered which of the other two would struggle. After all, they themselves would be fine. But some of the others may have difficulty in adjusting to their new roles. Turns out Chris Bosh seems to be the unlucky one, and even he admits it. His solution? Talk to the King (James).
The Miami Herald reports
of an on-plane meeting between Bosh and James, in which Bosh owned up to his own problems with the new
Heat
.
"I was just honest,'' Bosh said. ``I get a little lost out there because it's different.''
Lost is a tough word, but it's pretty accurate. Bosh has seemed to wander at times, and it's showing in his production. Some loss in production was to be expected with how much he's having to share the ball amongst the new superstar friends, but 13.3 points and more importantly 5.5 rebounds is a pretty severe drop-off. What's interesting is that Bosh's role in the offense? Hasn't changed much from Toronto.
Last season in Toronto according to
Synergy Sports
, Bosh spent 35% of this time in the post. This year? 34%. The difference is last year he shot 53% from the post and this year just 38%. Bosh spent 18% of his plays in Isolation plays last year, this year 17%. Bosh only spent 12% of his plays in the pick and roll, this year, that's up to 19%. And he's shooting 53% out of it.
So what gives? In short, the Heat need Bosh to be a premier post presence, but he's much better in the pick and roll or pick and pop, and face up.
Rebounding is the real issue, though. Last year, Bosh collected 17.7% of all available rebounds (TRR). This year he's grabbing less than 10% of the Heat's. Toronto was a terrible rebounding team with a power forward (
Andrea Bargnani
) at center, but still. Bosh grabbed 9.8% of all available offensive rebounds, this year it's down to 2.8%. Being the primary big man is not working out so well for Bosh. Which may be why he says he needs to get more aggressive.
"I've kind of been on my heels for the first part of the season, so I'm starting to figure it out; it's starting to come to me,'' he said after Saturday's 101-89 victory against the Nets. ``But at the end of the day, I just have to be aggressive. That's what it's all about.''
That is what it's all about, and so far, Bosh hasn't been about it.