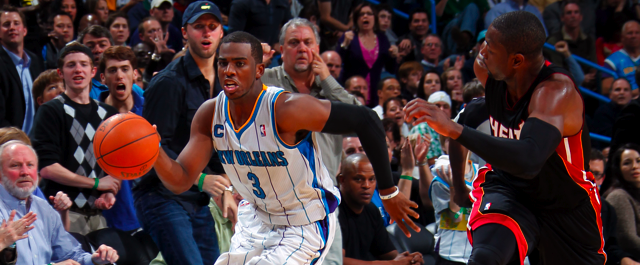 Posted by Royce Young
I have a confession. This is something I'm not proud of. This is something I haven't told many people, but I'm going to share with you guys who are my closest friends (right?). Up until about five years ago, I didn't know what "tennis shoes" were. I only knew of these things called "tennashoes." It's true.
I considered (and still do) consider myself a decently bright person. But for some reason, that little nugget of information always slipped past me. I remember saying to myself upon learning the correct usage, "Oh, well you learn something new every day."
And when it comes to the NBA, that's definitely true. In this case, we learn new things every week. Now two weeks are down and everyone has at least five games under their belt. What kind of knowledge do we have now that maybe we didn't have before? Five things:
Forget Durant. Forget LeBron. Chris Paul is your current MVP frontrunner - in November.
These things change. Kind of like how in college football everyone freaks out and starts declaring Heisman frontrunners in September (remember Denard Robinson and Ryan Mallett? How are they doing now?), people like to crown MVP winners way too early. So keep that in mind as I tell you that Chris Paul is the early favorite to win the MVP award.
There's a lot of criteria, though undefined, as to what it takes to win the MVP. A great season, a great team and big media attention are all important parts. But right now, CP3 has two added things that makes him a prime candidate: 1) A great story and 2) A great turnaround.
Before the season not many expected the
Hornets
to be a viable contender in the West. But they've started well going 6-0, which includes a big win over the
Heat
. And what that means is that Chris Paul gets a lot of credit for raising his game to make what most perceived as an average team into a good team and that immediately, we all start saying things like "CP3 4 MVP!"
Come March though, if the Hornets have returned to the planet and are hovering around .500, playing out a season that most expected, Paul probably won't be an MVP favorite. If Durant's
Thunder
are on course for 50 wins and he's going to lead the league in scoring, he'll probably win. Or if
Dwight Howard
is putting up 25 and 12 for a 55-win
Magic
, he'll get the nod. So it's too early to make any real judgments on it yet, but if we were handing out an MVP for the First Two Weeks Award, Chris Paul would be deserving.
Oklahoma City really does has some work to do.
It's not time to panic in Thunderland, but it's not a bad time to raise an eyebrow.
The Thunder are 3-3 with losses to the
Jazz
, the
Clippers
and the
Celtics
. Not terrible loss, considering the Clipper loss came on the road. But the two home losses to the Celtics and Jazz are really the ones that have people puzzled. In both games, OKC was down by 20 points and in both games, struggled on both ends of the floor.
The Thunder offense is basically a complete mess right now. It's all one-on-one basketball with at the most, two passes on a possession. OKC ranks dead last in assists per game and last in assists per field goal made. They aren't moving the ball, aren't spacing and aren't shooting well. Honestly, maybe it's a miracle it's not worse than 3-3.
So much expectation was placed on this team and it's way too early to give up on them. It's too early to even start saying things like, "I thought this team was supposed to challenge the
Lakers
... yeah right." Give it time. How you're playing in the first two weeks of November doesn't matter near as much as how you're playing the last two weeks of March.
It's too early to be concerned about a team that still has every key piece off a team that won 50 games last season. But it might not be too early to ask what's going on.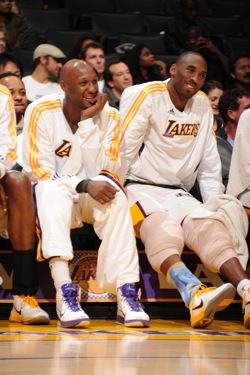 It's the Lakers and 29 other teams right now.
There are about four elite looking teams in the league right now. The Heat, the Celtics, the Magic and the Lakers. But the Lakers have even separated themselves from those other three at this point.
The 7-0 record is nice, but the Lakers lead the league in point differential, winning by an average of 13.6 points a game. And it's not just that, but they've dismantled teams. Like
dominated
them. What's scary too, is that they aren't even at full strength without
Andrew Bynum
. That sound you heard was the entire Western Conference peeing their pants.
It's way premature to start talking about 72 wins for this team because their competition hasn't been that difficult and losing three in a row isn't that hard to do in the NBA. But as it stands now, in terms of ranking power, it's the Lakers alone at the top, with 29 other teams looking up.
Houston may have a big problem.
(Has that joke reached a point where it's fair to use again? Like it's so lame that it's kind of OK?) The
Rockets
start of 1-5 was unexpected. They do have an excuse because they've probably played the toughest schedule in the league thus far. The teams they've lost to are a combined 25-5. They finally caught a bad team, whooping the
Timberwolves
Sunday.
Houston surely isn't feeling great about its start because you never want to dig a hole early, but with the loss of
Aaron Brooks
for
4-6 weeks,
it could be getting a little rougher for the Rockets. They are on the road for five of their next six and after three weeks of the NBA season could be too far behind to make up ground.
The Wolves are truly terrible.
In the same way starting any 72-win talk now is way too early, starting any "worst team ever" talking is equally premature.
Howevah, the Timberwolves are ridiculously, comically bad. They won their opening game by a point over the
Kings
and now have dropped five straight. They are losing by an average of 17.1 points per game right now. The next closest team is the
Wizards
, who are losing by 11.6 ppg.
According to the Elias Sports Bureau, in the past 20 seasons, only two other teams have suffered three 25-point losses in their first seven games: the
Bulls
in 2003 and the SuperSonics in 2005. The Wolves have lost by 25 or more in three of their first seven games. Yikes.
Add in the fact that
the Wolves lost every functioning point guard on the roster
and may be starting
Wayne Ellington
or
Maurice Ager
there for a week and it's kind of hard to picture the next Minnesota win.
These are the pains you go through when you're rebuilding (or I guess "building" in Minnesota's case). Remember, the Thunder were 3-29 before Christmas two seasons ago. So things can be turned around. But at this current moment, the Wolves are a total disaster in every way.