Former New York Knicks executive Isiah Thomas reportedly could face a suspension for his involvement in illegal pre-draft workouts. Posted by Ben Golliver.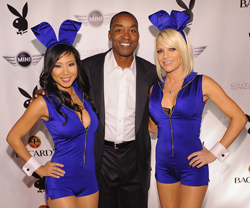 A few weeks back,
we noted a Yahoo! report
that alleged that the New York Knicks held improper pre-draft workouts over a number of seasons with multiple players, including
Wilson Chandler
, a player the team eventually drafted. At the time, we suggested that, given the seriousness of the actions and the fair-play implications,
a steep fine and a loss of draft picks
could be in order.
Yahoo! reports today
that former Knicks executive and current college basketball coach Isiah Thomas, who oversaw basketball operations when the alleged violations took place, wants back into the NBA but that, in addition to numerous questions about his character, integrity and competency, the illegal workouts could lead to a suspension for Thomas.
The NBA has enlisted an outside law firm to probe the circumstances of the workouts – including one in which Indiana Pacers guard Brandon Rush said he suffered a severe knee injury – and sources say more tips keep flowing in from around the league. Several teams want severe sanctions for the Knicks, because these charges dig to the heart of competitive balance and fairness. Beyond monetary fines and forfeiture of future draft picks for Donnie Walsh's regime, league sources say any uncovering of Thomas' possible complicity in potential violations could result in a suspension to be tacked onto his future return to the NBA.
Given a sexual harassment case that ended in a large financial settlement, it's virtually possible to envision an NBA team hiring Thomas, a Hall of Fame point guard for the Detroit Pistons. Being implicated in the illegal contact investigation would be a fatal blow to Thomas' NBA future.
NBA scouts use the term "red flag" to describe health or character issues that disqualify a player from being drafted. Isiah Thomas is a living, breathing red flag for any potential NBA employer.