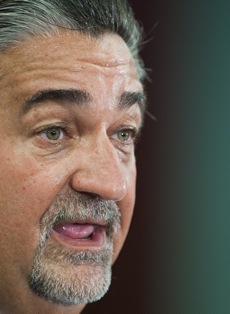 Posted by Royce Young
When he's not Dougie-ing,
Washington
Wizards
owner can often be found blogging, among other things. He's a refreshing owner that tries his best to communicate and interact with his fanbases (he owns the Washington Capitals too) while also being extremely likable and positive.
And on his blog Ted's Take
where he tends to say outlandish things (like when he said he'd Dougie if the Wiz sell out a game this season), he made quite the glass half full statement.
Also had we won a close game at home on Saturday, we would be playing on Wednesday for a .500 record. If you look at the standings, a 2-3 record would qualify for the playoffs if the playoffs started today. No joke.
You hear that? No joking here people.
I'll give Leonsis the first statement. That's true. The Wizards lost 107-102 to the Cavs at home, basically by choking away a lead in the fourth quarter. So yeah, if the Wizards had won that game that would present them the opportunity to get to .500 against a struggling Houston squad. But at the same time Ted, had the Wizards won a close game against the Hawks, and then played better against the Knicks, and also come out of the gate with a better opener against the Magic, you could be going for 6-0 record against the Rockets!
But I really like the second statement. Mainly because I love "If the playoffs started today" statements. Those are fun. Especially when you aren't actually in the playoffs if they started today. Because the Wizards aren't 2-3. They're 1-4. So if the playoffs started today, they'd be in the lottery. But if they had won their five previous games, they'd be the No. 1 seed!
Did you know that if the playoffs started today, the Warriors would be the five-seed in the West, the Pacers would be the eight-seed in the East and still, the Wizards would not be in.
Leonsis does make a quality point in closing: "The difference between success and failure in professional sports is quite small. Hard work is the foundation to all success - in business, in sports and in life." Absolutely true. I remember in 2008 the Oklahoma City Thunder lost 20-something games by six or fewer points. Had they won all those, they would've been in the playoffs. And that's the thing, a year of growth and a year of evolution and the Thunder learned how to win, taking the total from 23 to 50.
I definitely appreciate Leonsis' upbeat, positive attitude. It's a lot more fun to look at thing that way rather than, "We're 1-4, Andray Blatche is fat, we have to practice two times a day now and Gilbert Arenas is still on our team." I mean, they are almost 2-3, you know.