Portland Trail Blazers all star guard Brandon Roy has reportedly had his knee drained multiple times this year and will seek further medical advice.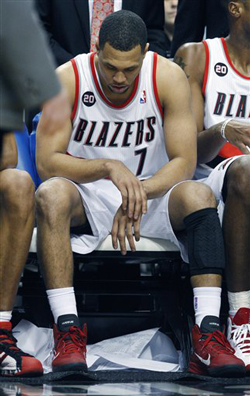 Posted by Ben Golliver.
Over the weekend
, we noted that Portland Trail Blazers all star Brandon Roy had planned some adjustments to his offensive game, to compensate for what he hinted was some slippage in his athleticism. At the time, Roy ruled out any concern about injuries as a cause for his perimeter-focused "ground game" approach, which has seen him attack the basket less and settle for more jumpers in the early season. Tonight, Roy
repeated to a group of reporters
that he doesn't have a particular injury that's troubling him but that he does want to limit his playing time this season so that he can build towards the playoffs. He also made a point to tell Blazer fans that they shouldn't be concerned about his health. But
The Oregonian reports
that Roy's left knee, not the one he had surgery on last spring, is experiencing repeated swelling, and has been drained of fluid twice already this season. The persistent swelling is leading Roy to seek the medical opinion of surgeon Neal ElAttrache, who will "determine a course of action," according to the paper. Obviously, that could involve a further minutes limitation, rest, treatment and, in a worst case scenario: surgery. Roy is not only the heart and soul of this Blazers team, he is also the focal point of its offensive system, which regularly runs the ball through his hands in isolation. Roy has been much less efficient in the early season, as he has not gotten to the rim or the free throw line with any regularity. He's often appeared tentative and has limited the number of situations where he can draw hard contact. Any absence would be felt immediately and forcefully, as the drop off from Roy to reserve guards
Rudy Fernandez
and
Wesley Matthews
is substantial. Roy is currently expected to play during Portland's upcoming 3-game road trip, which includes stop in Oklahoma City on Friday, New Orleans on Saturdya and Memphis next Tuesday. Today's latest development is bad news for both Roy and the Blazers. It's just not yet clear whether it will be bad news, horrible news, or really, really horrible news. That determination won't be possible until after ElAttrache's evaluation. Until then, the city of Portland is on pins and needles.