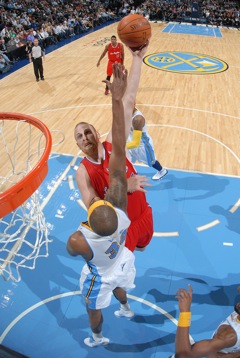 Posted by Royce Young
Another hit for the sliding
Clippers
. This time, it's starting center and All-Star
Chris Kaman
.
Kaman rolled his ankle against the
Hornets
Tuesday and is expected to miss two to three weeks because of the injury. Kaman underwent X-rays, which showed no structural damage.
Kaman told the L.A. Times after the game,
"We just ran one of our plays we only run a couple of times a game, and Rasual [Butler] threw the ball up there a little bit, trying to lead me to the basket," Kaman said. "I think
Chris Paul
tried to come on the weak side to try to steal it and put his foot right where my foot was supposed to go. Basically, I just rolled my ankle right over right then and it was pretty painful for a second, and then it kind of let up. I've rolled my ankle about 10, 12 times in the past eight years. I knew it was going to be a good one."
DeAndre Jordan
will likely start in Kaman's spot with potentially
Blake Griffin
seeing a little time at center.
Kaman's averaging 12.7 points and 8.6 rebounds per game this season which is down from last season and a little disappointing considering what Griffin is adding next to him. Kaman's shot has been off and he's been forcing things much more. He's taking more shots, missing more shots and having trouble getting settled in to the flow of the game.
The Clippers are already slipping away from any preseason aspirations and Kaman's injury will just about seal the deal on it. But without Kaman in the lineup, there's an opportunity there for Jordan to develop a little while also letting Griffin get more time in multiple block positions.