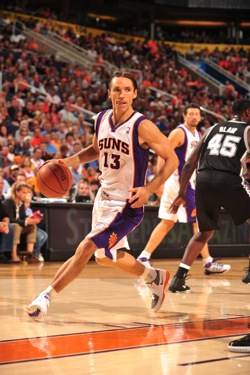 Posted by Royce Young
If you asked me about star players that I thought would be on the last block to be brought up in trade rumors,
Steve Nash
would probably be there. But not on Ric Bucher's list. He has Nash on the top (other than
Carmelo Anthony
).
Bucher appeared on the NBA Today Podcast with Ryen Russillo and talked about players that could be traded. Nash was his top choice other than Anthony.
Valley of the
Suns
transcribed Bucher's comments:
"I personally feel like I may have overestimated where they are, my belief in Nash to take any spare parts and make it work. I may have overestimated that.

They just don't have what they had previously and the feeling is that you're going to have a distinct two camps (in the Western Conference), the haves and the have-nots. Depending on where Phoenix is and in which camp, they may say 'you know what we need to go in a different direction.' If you're going to move Steve Nash, you have to move him now rather than late to get something out of him.

It's tricky because again we're talking about a business decision and Steve Nash is a great draw in Phoenix and he'd be a great draw anywhere."
Keep in mind, this isn't like a real, substantiated rumor neccesarily. This is one sports person - who is plugged in, mind you - giving his thought about who would be traded. He's not saying he's got source material calling for it to happen. It's just an opinion.


Nash makes $22 million over the next two seasons and is 36 years old. He's off to a pretty fantastic start this year, averaging 18.7 ppg and 8.9 apg. Moving Nash obviously means the Suns going in to full-on rebuilding mode and start working to build behind Robin Lopez and Goran Dragic I guess. Not exactly a big-time core there.

Nash has already been somewhat vocal about the team early on, saying they aren't a playoff caliber group and almost preparing fans for a rough year. They're off to a decent start at 3-4 but if things go south and the Suns are a bundle of games under .500 at the All-Star break, they might just put dynamite to it, trade Nash and start over. I'm sure Nash would appreciate it since he's in his twilight years and doesn't want to be stuck on a lottery team and also Nash isn't in the Suns long-term future. Makes sense, pretty much.

I say Nash would be one of the last to be brought up on the trade block not because it doesn't make sense. Because it does. But because he
is
the Phoenix Suns. Picturing him anywhere else is kind of difficult.
Again, just a rumor and I'm the messenger. But we do know one thing - he's not retiring to become prime minister of Canada.