The Boston Celtics defeated the Miami Heat, 112-107, in Miami on Thursday night. Posted by Ben Golliver.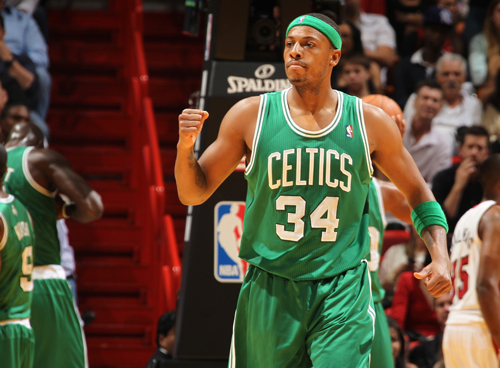 The Boston Celtics are significantly better than the Miami Heat right now. There's no question about it, now that the Celtics have downed the Heat both in Boston and in Miami during the first two weeks of the NBA season. That could change by the the time the playoffs roll around, but right now the chemistry, experience and mental toughness edges all go to Boston, who rushed out to a huge first-half lead on Thursday, leaving Miami looking discombobulated on offense and passive on defense. The biggest key for Boston was the play of point guard
Rajon Rondo
, who looked like the best player on the court despite scoring only eight points (including
this amazing dunk
). Rondo carved up Miami's defense time after time, dishing out 16 assists and finding
Ray Allen
for open 3-pointers ad nauseam. Allen put up with 35 points on 7-9 shooting from distance. Celtics forward Paul Piece also chipped in 25. For Miami, forward
Chris Bosh
no-showed during the first quarter, which is no great surprise given his recent stretch of uninspired play, but more troubling was guard
Dwyane Wade
's inability to get things going. Wade finished with just eight points and was 0-5 from distance, leaving Heat star
LeBron James
-- who had 35 points, 10 rebounds, nine assists and three steals -- to carry nearly the entire offensive load for Miami single-handedly. The Celtics let the Heat creep back into the game during the second half, and the game really tightened up in the closing minutes. But, from start to finish, this was a dominant thumping by Boston, one that solidifies the Celtics as the early class of the Eastern Conference. With the win, Boston improves to 7-2. With the loss, Miami falls to 5-4. Heat head coach Erik Spoelstra, who
lectured his team about "ego" at halftime
will undoubtedly be a target of criticism with such a talented group of players barely playing above .500 basketball.