Boston forward Paul Pierce makes fun of Miami's LeBron James's "Decision" on Twitter after the Celtics beat the Heat on Thursday night. Posted by Ben Golliver.
Nothing tastes sweeter than a big win in a rivalry game, and the Boston Celtics are
surely exuberant after dominating
the Miami Heat in their own house on Thursday night in front of a national television audience. Pierce finished with 25 points on the night, and turned to Twitter for some post-game trash talking after the game. "It's been a pleasure to bring my talents to South Beach, now on to Memphis," Pierce tweeted. The tweet is a clear reference to "The Decision," a televised special in which Miami forward LeBron James announced to the world that he would be leaving the
Cavaliers
to join the Heat using the phrase, "I'm taking my talents to South Beach."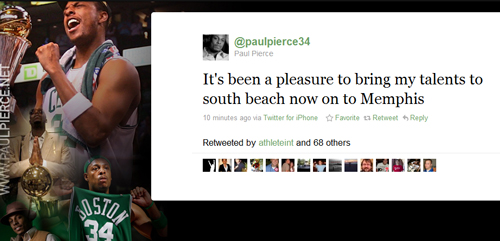 James' arrival in Miami was supposed to establish a Heat dynasty, one capable of overcoming Boston's aging Big Three of Pierce,
Ray Allen
and
Kevin Garnett
. It hasn't worked out that way so far, as the Celtics are up in the season series 2-0, thanks to fantastic play from point guard
Rajon Rondo
and some unorganized, inefficient and inconsistent offense for Miami. Pierce has every right to throw this jab, as James opened himself up completely to criticism and jokes by making his free agency decision in such a public manner. And because Pierce has won an NBA title, whereas James has not. Call this one of the spoils of being a victor. For James, silence is the best response. It's time for James to join his Heat teammates in licking their collective wounds and to start figuring out how to stack up some Ws, given their 5-4 record on the season is well below their own lofty expectations. As Pierce mentioned, the Celtics conclude their current four-game road trip against the
Grizzlies
on Saturday night in Memphis.