Phoenix Suns head coach Alvin Gentry is reportedly considering moving forward Hedo Turkoglu to the bench on some nights. Posted by Ben Golliver.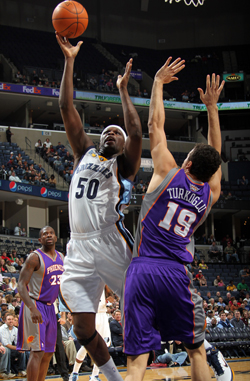 The Phoenix Suns are off to an uneven 3-4 start to the season, and while a step backward was all but assured after
Amar'e Stoudemire
headed east to sign with the New York
Knicks
, the Suns already find themselves on the outside of the Western Conference playoff picture looking in thanks to promising starts to 2010 lottery teams like the Golden State
Warriors
and New Orleans
Hornets
. So it comes as no surprise that Suns coach Alvin Gentry would begin to tinker with line-ups, and word comes from the
Arizona Republic
that one such adjustment could find expensive trade acquisition Hedo Turkoglu
moved to the reserve unit against bigger front lines
.
Gentry said he is considering bring Turkoglu off the bench to keep him from mismatches against bigger post players, following his depature from Monday's game after 2:23 due to fouls he picked up against Zack Randolph and Marc Gasol.
"I will not play Hedo against a guy like Zack Randolph," Gentry said. "It's unfair to him.
"I'd rather have him in the game five minutes later where he has no fouls than to take him out in the first five minutes." Turkoglu has said he would be open to coming off the bench.
The move is sound, given that Turkoglu hasn't been lighting the world on fire so far, averaging just 10.1 points and 3.1 rebounds through seven games. But the problem is much bigger that Turkoglu alone. The Suns are in this lineup-juggling predicament because of an imbalanced roster, one that is absolutely loaded (over-loaded, really) on the wings and thin in the post. The biggest question for Phoenix: When is it time to pull the plug on some of these redundant pieces? Does a single team really need
Josh Childress
, Hedo Turkoglu,
Hakim Warrick
,
Channing Frye
and
Earl Clark
? I get that perimeter big men is the thing down in the desert, but that's excessive by any standard, especially when all those floor-spacers leave Phoenix as the
fourth-worst rebounding team in the league
and the
absolute worst defense in the league
. Sitting Turkoglu, an ineffective rebounder and pathetic defender, is a step in the right direction. But a more dramatic move is needed by the trade deadline if this team hopes to make the postseason.
Hat tip: Pro Basketball Talk
.