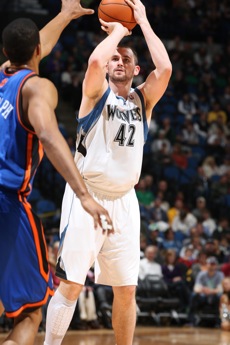 Wolves forward notches insane numbers, of 31 points and 31 rebounds in win over Knicks
Posted by Matt Moore

Kevin Love
notched 31 points and 31 rebounds tonight in the greatest performance across the two categories in 28 years. The last player to notch a 30-30? Moses Malone in 1982. Absolutely unbelievable. And on top of it all, the Wolves beat the Knicks for their second consecutive win 112-101.
Love actually hit 30 rebounds first is the insane part. He nailed a three-pointer with 1:17 remaining to hit the 31 point mark, and naturally received a standing ovation from the crowd. 31 rebounds is a team record for Minnesota.
Love gets a ton of his own offensive rebounds which some say pad his stats, but in reality, don't you want your player to pursue his own miss? Meanwhile, a performance of this magnitude is simply overwhelming. That it drowns out
Michael Beasley
's 35 points is something in and of itself. As Walt Frazier said, Love was "rebounding and astounding."
It may be time for Kevin Love to start getting these minutes regularly that he's been denied. What's stunning is the team still likely still not big on him due to their own steadfast scouting of him as a poor defender with attitude problems, which no one else can figure out.
For one night at least, Kevin Love is a legend. A simply amazing performance for one of the league's young stars.
For comparison, here's a list of players who didn't have 31 rebounds total coming into tonight's games, this entire season.
Yao Ming
(5 games)
Shaquille O'Neal
(4 games)
DeAndre Jordan
(9 games)
Carl Landry
(7 games)
Spencer Hawes
(8 game)
Timofey Mozgov
(8 games)
Hasheem Thabeet
(8 games)
Hamed Haddadi
(8 games)
DeSagana Diop
(8 games)
Ronny Turiaf
(7 games)
Jermaine O'Neal
(7 games)
And hey, Love was only 24 rebounds short of the record of 55 set by Wilt Chamberlain!
...
Yeah, Wilt was insane. But Love's pretty good, too.